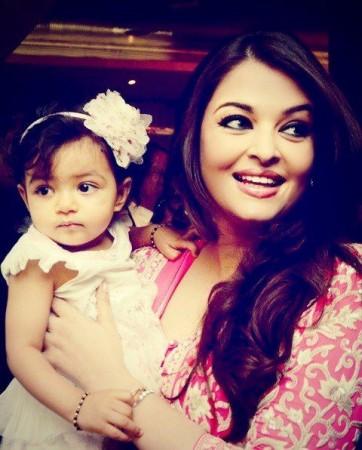 Bollywood diva Aishwarya Rai Bachchan was spotted with her one-year-old daughter Aaradhya at Mumbai's domestic air terminal when they were returning from Delhi on Thursday.
Aishwarya was in the national capital for the "Zindagi Live Awards" organised by IBN7 and Maruti Suzuki. She was the guest of honour and spoke about safety of women in India, at the function.
At the Mumbai airport, Aishwarya was spotted wearing a grey top and holding Aaradhya who looked cute in a white and pink dress.
Unlike earlier appearances at the airport, the Bachchans are not hiding or protecting Aaradhya from the shutterbugs.
Aaradhya, who is just 13 months old, seems to be quite tall for her age, much like her father Abhishek. But it's not only about height; her facial features, eyes and complexion also resemble those of her father.
Nearly a week ago, Aishwarya along with her daughter, husband Abhishek, mother-in-law Jaya and father-in-law Amitabh Bachchan visited Bhopal, Madhya Pradesh for the shooting of Prakash Jha's upcoming film "Satyagraha". They also met Jaya's mother Indira Bhaduri and the rest of the family. It was Aaradhya's first visit to her Nani's place.
"I brought along Abhishek and Aishwarya and little Aaradhya too with me in the plane, so they could meet their Nani, Jaya's Mother, who lives here, as also Jaya's youngest sister and her family," Amitabh wrote on his official blog.