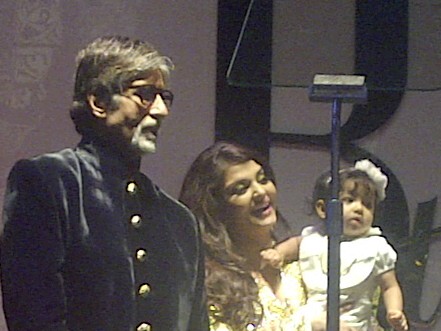 Bollywood icon Amitabh Bachchan may not be in the best of health but he has a new found caretaker in his granddaughter Aaradhya.
Sr Bachchan recently said he was down with fever and stomach infection, which affected his work commitments including the shooting schedule of quiz reality show "Kaun Banega Corepati".
In his latest blog entry, the superstar said he is in the process of recovery. He also wrote about Aaradhya coming to pay him a visit.
"I have rested to the best of my ability... not moved from my recline the entire day... and ... the little one climbing up to my room to enquire after my health in a language only she would best understand," the actor said.
Bachchan has mostly steered away from discussing about his granddaughter in his blogs or on his Twitter account, but off late Aaradhya has found mention in the superstar's blog where she is being referred to as the 'little one'.
On Amitabh 71st birthday last week, he talked about his granddaughter's antics.
"A strange calmness descends on the eve of the clock that strikes 12 midnight...the family, the few that are in town, bring in the greetings, the 'little one' ably tutored sings a 'happy birthday' to herself first and then after suitable prompting, to me ... its these little moments that make up a birthday," said Amitabh on his blog.
Adding to his recent about his impending work, Amitabh added, "There is much to be done ... particularly in the context of work tomorrow...It's back to KBC again tomorrow, and I shall try my best to be at my best."