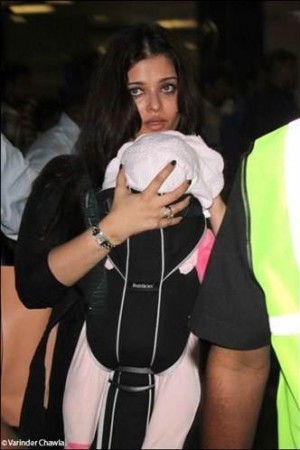 Bollywood's smallest celebrities Aaradhya Bachchan and Azad Rao Khan will be on the sets of Yash Raj Films' "Dhoom 3" in Chicago, watching their fathers shooting for the first time.
Abhishek and Aishwarya Rai's daughter, Aaradhya, and Aamir Khan and Kiran Rao's son, Azad, will reportedly spend some time together in Chicago and create their own dhoom.
According to reports, Aishwarya Rai and her 10-month-old daughter will be visiting Chicago next week as Abhishek can't seem to stay away from his family for long.
Apparently inspired from co-star Aamir Khan, Abhishek has rented an apartment in the city so that his wife and daughter could stay with him during his three-month shoot for "Dhoom 3".
Aamir Khan's wife and son are already in Chicago, while Aishwarya and her little bundle of joy will join Abhishek in mid-September.
Both toddlers were born just a day's apart last year and are expected to meet each other for the first time on the film's set, NDTV reported.
Like their respective daddies who are enjoying a roller coaster ride at Chicago's 6 Flags amusement park, the two kids and their mommies are too expected to have a great time with each other.
"Dhoom 3" is the third installment of the Dhoom series which is directed by Vijay Krishna Acharya and produced by Aditya Chopra. The movie casts Abhishek Bachchan, Uday Chopra, Aamir Khan and Katrina Kaif in the lead roles.