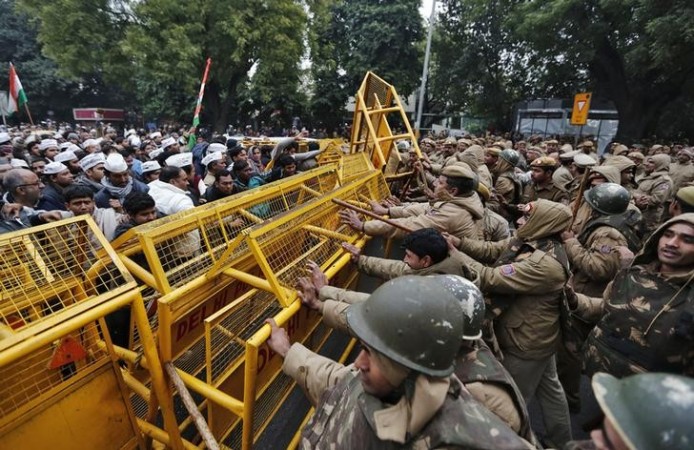 Friday's news surrounding AAP were around Arvind Kejriwal's and party's continued support for Somnath Bharti.
AAP Says Bharti's Midnight Raid was Based on Evidence
Aam Aadmi Party on Friday came up with a strong defence for Bharti, saying the law minister's midnight raid was conducted based on some evidence.
AAP leader Yogendra Yadav's comments came amid calls for the removal of Bharti who has been involved in a number of controversies of late.
"I saw the evidence myself... I admit that the mistake was that we should have cobbled together all the evidence and put it in public domain and let the public view it. I think we allowed the mistaken impression to persist for 4-5 days, which was an error," PTI quoted Yadav as saying.
Public Confrontation between Bharti's Lawyers and Delhi Commission for Women
Amid the growing uproar against the law minister, who has been accused by the women's commission as a racist and sexist, Bharti's lawyers and the Delhi women's commission had a public confrontation on Friday, in front of the media.
Bharti was summoned by the women's commission on Friday afternoon to give explanations about the alleged mistreatment towards the African women during the infamous raid last week but Bharti sent his lawyer instead of going himself.
AAP to Release Video of Somnath Bharti Raid
In addition to the continued claim by AAP that there is no prima facie evidence that Bharti behaved like a racist or sexist during the raid, the party will also release video clips of the much-talked-about event.
On Thursday night, the clips were monitored by the party and an edited version of the raw footage was sent to the Delhi Commission for Women.
Binny Calls for Bharti to Step Down
Meanwhile, IANS has reported that rebel AAP legislator Vinod Kumar Binny met with Delhi Police Commissioner BS Bassi on Friday and said that action must be taken against the law minister for his vigilante raid.
"The antics of our law minister has brought shame to Delhi and the country. The chief minister (Arvind Kejriwal) should have removed Bharti from his post by now, he must step down," he was quoted as saying.
Shiv Shena Equates Rakhi Shawant with Arvind Kejriwal.
In a hilarious turn of events within the clamour surrounding AAP and Kejriwal, Shiv Sena chief Uddhav Thackeray could perhaps be attributed for the most bizarre and grotesque comments ever made against the new Delhi CM.
Thackeray, in an editorial in his party's propaganda publication Saamna, said item girl Rakhi Sawant could do better governance than the Delhi Chief Minister, adding that Kejriwal was a "circus ringmaster leading a fair of madmen."
"Even an item girl Rakhi Sawant can govern better than Kejriwal. Small-time actors take to item performances after failing to get decent work. Arvind Kejriwal's item performance too will last as long as this spectacle does," Thackeray said in the infamous article.