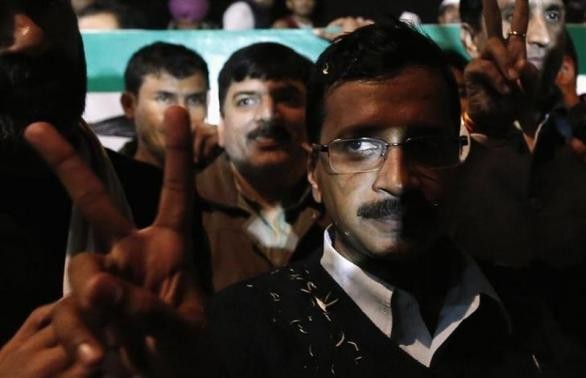 The Aam Aadmi Party, which had recently come under criticism from its own supporters for taking support from the Congress party, has made it clear that it won't be a 'stooge government'.
In a five-point promise, the AAP - which is all set to form a government in the New Delhi assembly - has reiterated its stance to bring in legislations to fight corruption.
AAP leader Arvind Kejriwal, who will be taking over as the Chief Minister of the New Delhi Assembly, in a public statement has listed out a five-point promise that both clarifies and reiterates the AAP's stance. AAP also has come out with an online video in five languages, including Hindi and English, to clear the air on its stance.
Reportedly there has been an increased agitation in the fringes of AAP, as some of the supporters had raised the issue of taking support from the Congress as betrayal of their trust.
However, in the following promise, the soon to-be Delhi Chief Minister has clarified the matter.
With regard to the government formation in Delhi, we want to reiterate a few things below.
1. It is only outside support, not an alliance, which means that it will be AAP Government, AAP agenda/manifesto that will be implemented.
2. Decision is based on overwhelming wish of people of Delhi that AAP should form government.
3. AAP will not make any compromises and pursue its agenda of anti-corruption. AAP plans to pass Delhi Lokayukta bill in first 2 weeks of Jan and go after the corrupt.
4. AAP fully intends to deliver on the 18-point agenda that brings power back to the people and addresses their needs.
5. If Congress withdraws its support and the government falls, then AAP will go back to the people. AAP will not make compromises with the Congress just to stay in the government.
Further, AAP leader Kerjiwalm, after announcing his party's decision to take up the Delhi assembly seat, has made it clear that the governance in Delhi will be truly be of the people. "Governance is not a big deal. No one is born a chief minister. Everyone has a first time. Politicians shouldn't think that the aam aadmi of this country is weak. The aam aadmi of this country knows how to cook, weave clothes and build houses. It is an aam aadmi who went to the moon. Not a politician. The aam aadmi will now show that he also knows how to govern," Kejriwal said on the AAP website.