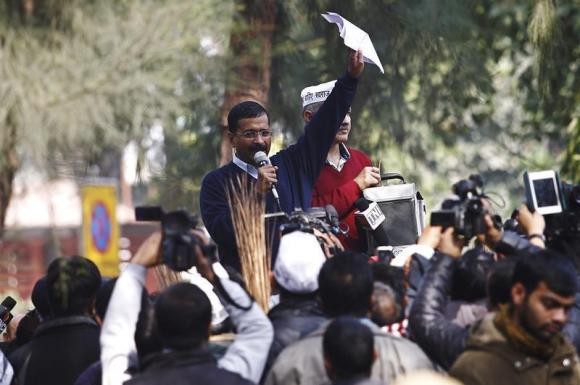 Delhi police have resorted to lathi-charge as clashes erupted between Aam Aadmi Party (AAP) protesters and police on Tuesday. Party leader Arvind Kejriwal's supporters tried to break barricades cordoning the high-security zone which surrounds the Parliament, ministries and the president's home.
Hundreds pushed through the barricades to join the 10-day long dharna staged by Chief Minister Kejriwal.
Kejriwal woke up to a cold this morning after spending the entire night on the street near the Parliament house. He has vowed to spread his protest against the police force which he claimed was highly "compromised".
Eleven people were left injured in the standoff between police and protesters, IBN Live has reported. AAP said that people from other political parties had infiltrated into the scene to cause more chaos.
Police had asked Kejriwal to relocate his demonstrations to Jantar Mantar, but he has categorically rejected their pleas by saying that the police have no right to order the chief minister.
"The chief minister decides where to sit, not the home minister," he told reporters on Monday.
Kejriwal and his government launched their dharna over the inaction by police over an suspected drug and prostitution ring, which law minister and AAP leader Somnath Bharti had ordered for a crackdown.
The first day of the sit-in saw an adamant Kejriwal claiming that he was an "anarchist", in a speech that has proven to be highly controversial.
Clash between police and Kejriwal supporters; policeman injured #KrantiKariAAPGovt Dharna Delhi @KiranKS #AAPDrama pic.twitter.com/XMnVypzSZ4

— tarun (@dreamthatworks) January 21, 2014