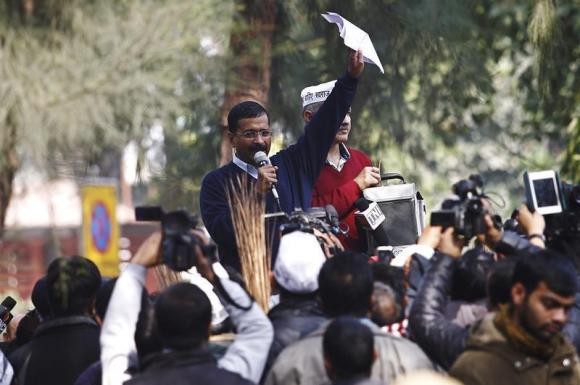 Over the past week, the New Delhi government, under the rule of the youngest political party - the Aam Adami Party, continued to go through turmoil as one issue or the other threatened to destabilise their government.
What is noteworthy is that the AAP seems to be facing more problems from within the cadre than outside, as disillusionment and seeds of rebellion seems to be spreading. While rebel and former AAP member Vinod Kumar Binny is threatening to pull the rug under the AAP government, its founding member Madhu Bhaduri confirmed that she has quit the party.
The discontentment in AAP seems to have spilled over to Monday, with AAP MLA Madan Lal attacking BJP and alleging that it is trying to bribe its leaders.
AAP in News
AAP accuses BJP of offering him ₹20 crore to split his party
On Monday, launching another attack of words and allegations, AAP MLA Lal claimed he had been approached by men close to BJP leaders Narendra Modi and Arun Jaitley, who offered him bribe of ₹20 crore to split the party, though the MLA offered no proof. In an interview with television channel NDTV, Lal said: "One of the men said 'we are Modi's people'. They said if you break away with nine people and form a new party, you can take power with BJP support. We will make you Chief Minister. They said we will also give you 20-20. I asked, 20 lakhs? They said no, 20 crores."
In reply to his accusation, BJP senior leader Jaitley on his Twitter page said: "Rubbish claims by AAP. AAP's alternative politics includes a fundamental right to falsehood and lies."
Watch Video: Madan Lal's allegations against BJP

Vinod Kumar Binny Threatens to Overthrow AAP Government
The expelled Aam Aadmi Party legislator Binny, who is known for calling off his hunger strike within hours, is increasingly becoming a threat to the stability of the AAP government in Delhi.
Binny has now come up with claims that he has the support of four more Delhi MLAs and can topple AAP government. He has again given 48 hours to the APP government to meet his demands on slashing power and water bills and improving women's security, which were promised by Arvind Kejriwal in the election manifesto.
As of now the Kejriwal government is maintaining a clear majority of seats, with a total of 37 members in its kitty. After the Delhi Chief Minister expelled Binny last month, he had 27 AAP legislators in the 70-member Delhi Assembly. Though he has eight MLAs from Congress and two others from Janata Dal (United) and an independent, it is going to be a close game. And if Binny really gets the support of four MLAs as he claims, then it would prove disastrous for the AAP government.
Watch Video: Vinod Kumar Binny threatens AAP

Madhu Bhaduri quits AAP
Revealing the growing divide in the party, disillusioned AAP founder member Bhaduri quit the party and launched a scathing attack on the AAP government. The former diplomat and AAP's founding member alleged that she was lambasted at a meeting, for introducing a resolution condemning Delhi law minister Somnath Bharti's role in a midnight raid, in which women of African origin were assaulted by the mob.
"I have just one issue, and that is humanity. And women are humans. In this party, women are not considered humans. The party has a mentality of a khap panchayat. There is no space for women. If the other women leaders have any self-respect, they will quit too," Bhaduri told TV channels.
Watch Video: Madhu Bhaduri Quits AAP

AAP MLA publicly humiliated by a woman
Causing much embarrassment to the Aam Aadmi Party, a woman allegedly slapped AAP MLA Dinesh Mohania over water issues in Sangam Vihar. Both MLA Mohania and the woman registered police complaints of assault against each other.
The incident was reported from H Block Sangam Vihar in Delhi, where the local MLA had gone to check a complaint against the alleged water mafia. The woman along with her family got into an argument with the MLA and AAP supporters, which lead to the assault.
Watch Video: Woman slaps AAP MLA