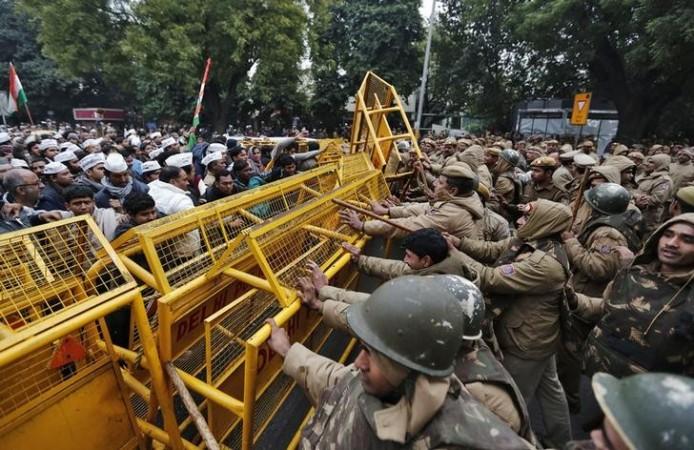 Much of the news concerning Aam Aadmi Party on Saturday was centered on law minister Somnath Bharti. AAP has released a number of videos which tend to vindicate Bharti of any wrong-doing as alleged by political parties and the women's commission. The 'vigilante' minister has stated that allegations surrounding him are part of a political conspiracy to defame him.
AAP Releases Videos of Raid in Bharti's Defence [Watch Below]
After overwhelming pressure from political spears and the women's commission who alleged that Bharti acted in a racist and sexist way against Ugandan women, the AAP on Saturday released a series of videos in defence of their decision to retain Bharti in his post.
The videos, which range from 2 to 4 minutes in length, show the law minister's visit to the Khirki area on 15 January with the police. They also tend to exonerate Bharti of unlawful activities by showing the presence of women police personnel at the raid. One video also shows the police not giving any heed to Bharti despite his repeated requests, while another one shows the presence of condoms and bottles containing some liquid inside a car.
Watch Video: Proof that Lady cop was present
Watch Video: Condom and Liquid Spilled in a Car
Watch Video: Somnath Bharti Talking to Cops
Watch Video: One girl Caught after police Chase her
Delhi Police Submits Report to the Court Against Bharti's Raid
The Delhi Police on Saturday submitted reports to the court against Bharti's raid involving Ugandan women. The police claimed there was a witness and a victim who could identify the molesters.
"Today the Deputy Commissioner of Police has filed a report to the court and the complainant has already been examined under section 164," ANI has quoted lawyer Rakesh Sherawat as saying.
"Our submission is, that the complainant is a witness in the case and the victim has claimed that she can identify the molesters," he said.
"The Court has asked us to file our allegations in written, and has adjourned the court till 28th," he added.
Bharti Cries Conspiracy, Says Allegations are False and Aimed at Defaming Him
Meanwhile, Bharti insisted the allegations against him is part of a "conspiracy to defame" him, adding that the Delhi Commission for Women's move against him was politically motivated.
"Barkha Singh is a member of Congress and acting against me for a political motive," Bharti told reporters. "All allegations against me are false. It's a conspiracy to defame me". It's absolutely wrong and pathetic. Everything is wrong," he added.
On Fiday, Bharti failed to appear before the women's commission panel that was probing his action and instead sent his lawyers as representatives.
'How Much Money Have You Got from (Narendra) Modi?' Bharti Asks Reporters
Bharti landed himself in another controversy after accusing some of the media members of receiving bribes from BJP presidential candidate Narendra Modi, in a statement blaming the media for the controversy he is in.
"How much money have you received from Modi?" the law minister asked reporters, who were pressing him for a comment over his lawyers' confrontation with Dehi Commission for Women members on Friday.
Bharti, however, apologised for the comment later. He said that his statement was being "misinterpreted", the NDTV reported.
Arvind Kejriwal Defends Dharna
Meanwhile, Delhi CM Arvind Kejriwal on Saturday defended his controversial two-day dharna in the heart of Delhi and said the move was not unconstitutional.
"Some people say I am unconstitutional. I re-read the constitution and couldn't find anywhere that a Chief Minister can't hold a 'dharna'," the Aam Aadmi Party chief said at an event.