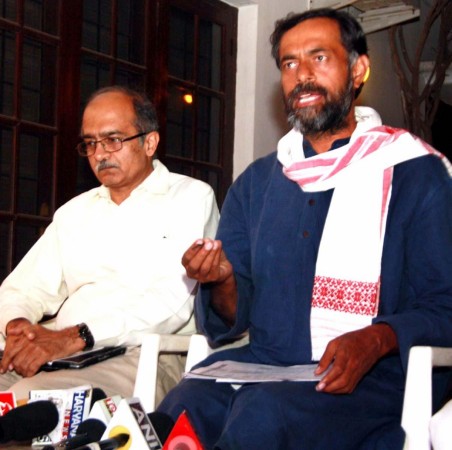 AAP leaders Manish Sisodia, Gopal Rai, Pankaj Gupta and Sanjay Singh issued a statement on Tuesday accusing rebels Yogendra Yadav and Prashant Bhushan of trying to sabotage the party's efforts in the recent Delhi elections.
The four of them told volunteers that the party should lose the Delhi assembly elections by getting around 20-22 seats so that its leadership could be changed, reports Hindustan Times.
Bhushan had tried to stop donations from coming in and stopped workers from other states from campaigning in Delhi, the statement said.
Yadav was also accused of speaking off record and planting news stories to ruin the party's image.
The first major offensive by the Arvind Kejriwal camp comes after the two rebellious leaders were removed from the party's Political Affairs Committee (PAC) last week.
Earlier AAP members Maharashtra leader Anjali Damania and parliamentarian Bhagwant Mann had demanded Bhushan and Yadav's removal from the party, saying they conspired with the BJP to get the party defeated in the Delhi polls.