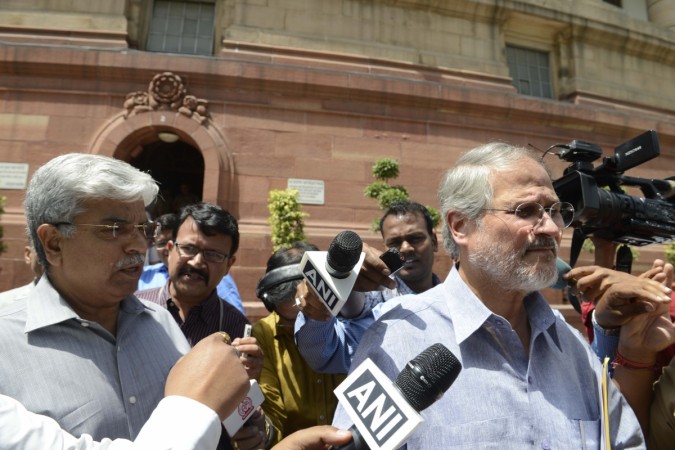 The AAP government's decision to appoint officials from Bihar Police to Delhi's Anti-Corruption Bureau (ACB) has escalated the ongoing turf war between Chief Minister Arvind Kejriwal and Lieutenant Governor Najeeb Jung to a new level as the latter has denied receiving any proposal for deputation.
"The office of the Lt Governor has so far not received any proposal for the deputation of such personnel from outside Delhi Police," PTI cited an excerpt from the statement issued by LG's office in reaction to the AAP government 's decision.
The statement further pointed out the 21 May notification issued by Ministry of Home Affairs that gave the LG an authority to transfer and appoint bureaucrats in the national capital.
"The Anti Corruption Bureau (ACB) Delhi...functions under the authority, control and supervision of the Lt Governor, a position that has also been clarified by Ministry of Home Affairs," the statement said.
The office of LG has said that the matter will be taken into consideration soon after receiving a formal proposal from the ACB.
"The matter will be duly examined as and when the Lt Governor receives the formal proposal from the vigilance department of Delhi government," the LG office said.
The Bihar Police have sent six officers, including a deputy superintendent of police and five inspectors and sub-inspectors, to Delhi to join the ACB on the request of Kejriwal. One inspector and two sub-inspectors have already joined the Delhi's anti-corruption agency, The Times of India reports.
The appointment has triggered a fresh controversy days after the power tussle between AAP and Jung was dragged to the two major courts of India.
While AAP had approached the Delhi High Court challenging the MHA notification, the Centre appealed to Supreme Court to stay Delhi HC's order holding MHA notification as "suspicious". In view of which, the SC asked the AAP government to send reply on Centre's plea within three weeks.
The notification which has lately become the centre of the turf war between AAP and LG was issued after the government transferred some senior officials from Delhi, following appointment of Shakuntala Gamlin as the acting chief secretary despite Kejriwal's objections.