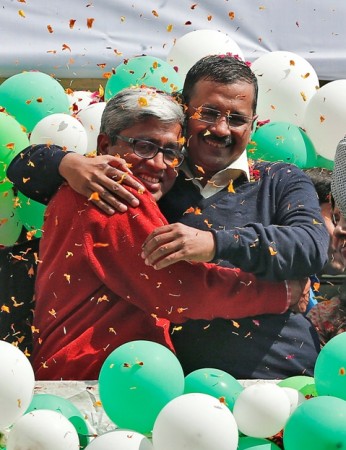 The Income-Tax Department has sent a notice to Aam Aadmi Party in connection with donations received by it. Just a day before Arvind Kejriwal's astounding victory in the Delhi Assembly polls, the I-T dept sent the party a letter seeking details of the transactions of ₹50 lakh each made as funds for the Delhi assembly elections by four prima facie bogus companies.
The notice was issued on 9 February seeking information on the receipt of ₹2 crore by the party and details of the companies – Goldmine Buildcon Pvt Ltd, Skyline Metals and Alloys, Sunvision Agencies and Infolance Software Solutions – and its owners.
The I-T department has also asked the party to share previous transaction details with these companies, if there were any, and has given it time until 16 February to respond or else the party will have to pay a penalty of ₹10,000, according to ABP News.
Accepting that the party did receive an I-T notice, AAP leader Ashutosh said that they will cooperate with the I-T department and finance ministry for the investigation as they want the taint of this allegation removed.
"Whatever allegations are imposed upon us must be investigated and the facts must come out in the open. AAP adheres to the law and order, and there is nothing hidden. It would be clear after investigation that our party has done nothing wrong," Ashutosh said.
Earlier this month, an NGO called Aam Aadmi Party Volunteers Action Manch (AVAM) lodged a complaint with the Election Commission claiming that AAP has indulged in money laundering and has accepted a donation of ₹50 lakh each from four bogus companies.