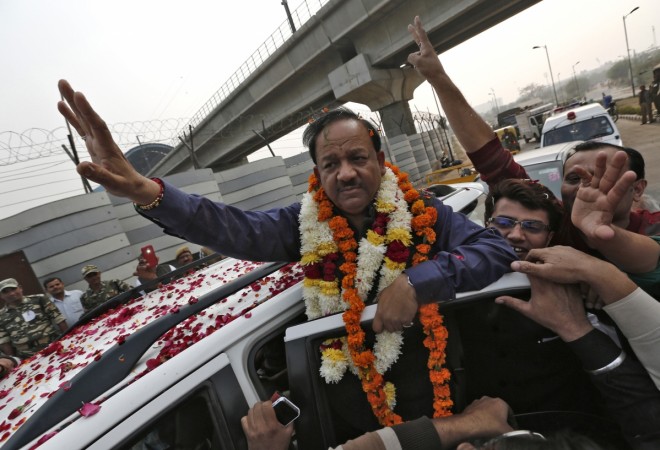 The Aam Aadmi Party (AAP) and the Janta Dal (United) have been protesting the dismissal of Sanjiv Chaturvedi, the former Chief Vigilance Officer (CVO) of the All India Institute of Medical Sciences (AIIMS), Delhi.
Some AAP members went to the doorstep of Union Health Minister Dr Harsh Vardhan's Delhi residence on Monday, protesting the dismissal of Chaturvedi, who is considered to be one of the most upright anti-corruption officials in the country.
The AAP members, outside Vardhan's residence demanded the latter to reinstate Chaturvedi as the CVO of AIIMS and even asked him to resign as the Health Minister of India.
On the other hand, JD(U) also exhibited their support for the sacked civil officer, when MP Ali Anwar Ansari said that this move by the Health Ministry is nothing but an opportunity to ease the pressure on the corrupt officials at the AIIMS. He also called for an official CBI enquiry into the whole matter.
In a letter addressed to Narendra Modi, Ansari urged the government to open a CBI probe, and believes that it would reveal all the corrupt officials behind this move.
Ansari also said in the letter that Vardhan's claims that Chaturvedi's appointment as the CVO had been rejected twice by the Central Vigilance Commission (CVC) are false. He said that the CVC had constantly presented Chaturvedi as the CVO, according to a report in The Hindu.
Earlier, on Saturday, Vardhan had issued a statement via his Twitter account, saying that Chaturvedi's appointment as the CVO was opposed by the CVC twice, and that the appointment of the CVO requires the approval of the CVC.
Sanjeev Chaturvedi twice rejected by CVC.His continuation as CVO irregular and indefensible.CVC's unattended concerns addressed at last.

— Dr. Harsh Vardhan (@drharshvardhan) August 22, 2014
However, the AIIMS is not one of the organisations that require the approval of the CVO to appoint officers.
According to an investigation by Business Standard, the Health Ministry had recommended Chaturvedi's name for the CVO post and the CVC had neither approved nor disapproved his appointment.
Citing this, the AAP supporters began the protest outside Vardhan's residence and they believe that it is due to certain corrupt elements in the BJP, that these drastic measures are being taken in the public offices.
"The health minister is changing his stand everyday and is making false statements in a desperate bid to wriggle out of his unjustified and untenable decision to compromise with corruption by having shunted out an honest officer on the instructions of BJP leadership. The minister on Saturday changed his stand from rejection to opposition by the CVC in 2012 and 2013. The AAP dares the health minister to put in public domain any document which has support his claim," said the AAP in an official statement.