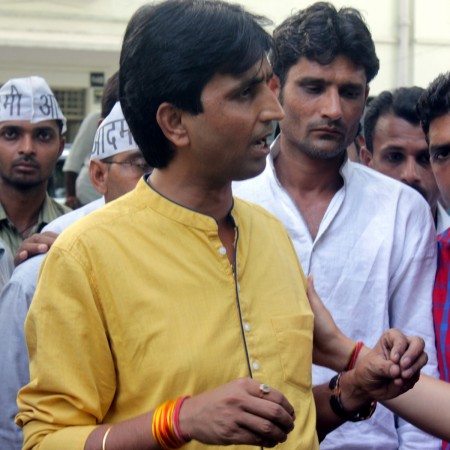 Najeeb Jung, Lieutenant Governor of Delhi, said on Tuesday that he was not averse to mulling over dissolving the Delhi assembly if such a proposal was brought before him.
In retaliation to Jung's comments, the Aam Aadmi Party (AAP), which has an overwhelming majority in the assembly with 67 MLAs in the 70-member house, branded Lt Governor Najeeb Jung as a threat to democracy and claimed that it smelt of a larger "conspiracy" backed by Prime Minister Narendera Modi.
Lt Governor Najeeb Jung's statements
When asked during an interview whether he is open to the idea of doing away with the Delhi assembly, Jung said: "As a thinking human being, as a citizen of Delhi, why would I be not open to giving thought to anything that involves Delhi."
"Of course, I am not unwilling to think of anything. We are all human beings and all kinds of thoughts come to us. So, if somebody were to ask me in writing that will you give an opinion, then of course, I would think about it. I am not a robot that I don't think."
When News-X TV channel asked Jung about Kejriwal's usage of strong words to attack Modi in the past, he said that in a democracy one can criticise prime minister's policies but denounced Kejiriwal for "name-calling" the PM.
Jung also said an apology was due from Chief Minister Arvind Kejriwal to Prime Minister Modi for him "calling names".
Aam Admi Party's reaction
Stepping up to defend the party, Kumar Vishwas responded and refuted the LG by saying that Jung had no power to scrap any legislature as that power is only vested in Parliament.
"We challenge the Modi government to get the proposal scrapping the Delhi assembly passed in parliament…Jung's threat to dissolve the Delhi assembly is tantamount to overriding the constitution." said Vishwas.
Alleging that "this is definitely the voice of Modi," the 46-year-old AAP leader claimed that Jung's statements reflected PM Modi being rattled by the party's expanding base in Punjab, Goa and Gujarat. He further added that "It is a litmus test being done in Delhi by the Modi government to impose Emergency in the country."
However, Vishwas, who said that the AAP government is planning to challenge the high court verdict of Aug. 4 that declared the Lieutenant General of Delhi as the administrative head of the state, expressed confidence in the Supreme Court after citing the case of Arunachal Pradesh and Uttarakhand, where emergency was revoked and constitutionally elected governments were restored. It would favour the elected government in Delhi too, he said
Kumar Vishwas also objected to Jung's suggestion to Kejriwal that asked the latter to apologize to Modi for his remarks. He added that Jung should practice vipassana (meditation) to shed his hatred for Kejriwal.
Kumar said that both Modi and Kejriwal were political personalities and one could always debate if the verbal attacks they have launched against each other was right or not, however, the L-G's comments regarding Kejriwal are demeaning as the Governor holds a constitutional post.
"Or if he wants to take on the AAP, he must resign as the L-G and fight elections from any seat in Punjab…or he can contest from any safe seat in Goa or Gujarat," Vishwas said.
Earlier, reacting to Jung's comments, Delhi Health Minister Satyendar Jain accused Jung of "speaking the language of the Viceroy and Churchill."
"The (British) Viceroy also used to say that India cannot be given complete independence.Winston Churchill used to say Indians cannot govern themselves.The Lt Governor is speaking the language of the Viceroy and Churchill," Jain said.