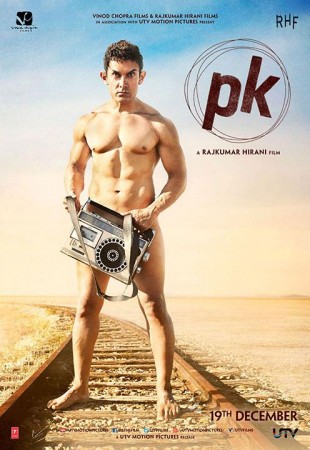 Aamir Khan's "P.K." has been in the spotlight ever since its poster was released. Khan, who stands nude on a railway track with a boombox to cover his privates, has found himself amid many social media jokes and a couple of court notices.
And just when one thought that this was it, the film has been dealt with a major blow. Prior to the poster release, there were rumours that the studio working on special effects for the film lost its backup in a fire incident at the Lotus Business Park, Mumbai. While the team stated otherwise and explained that though the server was gutted, the backup had been taken.
Turns out, this isn't the case anymore and the fire has actually taken a toll on the film."Pixion is working on the special effects for the film and the Lotus Business Park fire has caused them a lot of damage," Mid Day quoted a source.
The recent fire caused massive damage and devoured everything including the backup files. "As a result, the studio has lost all of pk's special effects scenes. Now they will have to work on those scenes all over again," the source added.
Like most films of late, 'P.K.' too had to resort to special effects for some of its scenes. With the backup consumed by fire, it is going to an uphill task for the team to bring it up in a few months.
According to another source, the work may have to be started from 'scratch' and the team has to put in extra efforts to get done everything on time. "All their efforts seem to have gone in vain. There's nothing they can do about this, except start from scratch. The studio's team will now have to work really hard to get everything fixed in time."
Does this mean there's a possibility of a delay in the release of "P.K"? Only time will tell. The makers of the film were, however, unavailable for comment.
Directed by Rajkumar Hirani, "P.K." is slated for a 19 December release. The film stars Anushka Sharma, Sanjay Dutt and Sushant Singh Rajput in key roles.