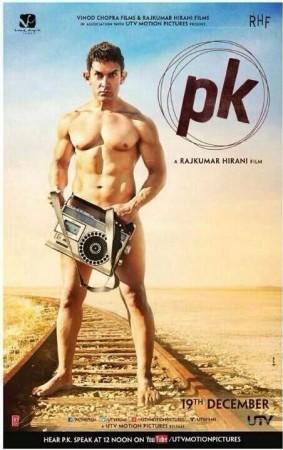 The recently unveiled first look poster of Aamir Khan's most awaited flick, "P.K." where the perfectionist bared it all with just a transistor covering his front has managed to create tremendous buzz.
The poster released on 1 August has become viral and is currently the most talked about topic on social networking sites. "P.K." poster is said to be one of the boldest posters released in the recent times.
When Bollywood celebrities took to Twitter to praise Khan for his bold step and how he has pulled off the look so impeccably, there are many others who are making fun with some hilarious jokes on the poster.
The actor has even been compared with some bold beauties, including adult star Sunny Leone and model Poonam Pandey for baring almost all.
"P.K." directed by Rajkumar Hirani is one of the biggest and much awaited films of 2014, which also stars Anushka Sharma, Sushant Singh Rajput and Sanjay Dutt in main roles and is set to release worldwide on 19 December.
Check out some Twitter jokes on "P.K." poster that became viral:
Thank God AmirKhan doesn't seem to be an Apple freak..an iPod instead of tape recorder would have been horrible... #PKposter

— shravan kumar (@shra1cumar) August 2, 2014
ROFL! Pollard's reaction after watching #PKPoster. #PK pic.twitter.com/we3kVw2UbO — Sir Ravindra Jadeja (@SirJadeja) August 2, 2014
LMAO! This one's hilarious. #PK #PKPoster pic.twitter.com/gO5FGw8XVG

— Sir Ravindra Jadeja (@SirJadeja) August 2, 2014
Sunny Leone seduced after watching #PKPoster #AamirPKMeme pic.twitter.com/G2xyio4bfj — Khayali Pulav (@dekhbhaidek) August 1, 2014
#AamirPKMeme Aamir at BRICS summit pic.twitter.com/b2xwbk7eiJ

— The UnReal Times (@TheUnRealTimes) August 1, 2014
Aamir in #MumbaiMetro #AamirPKMeme pic.twitter.com/8IN0TJmwVS

— Khayali Pulav (@dekhbhaidek) August 1, 2014
Aamir Khan gets guard of honour #AamirPKMeme pic.twitter.com/vC1MZzdPfb — The UnReal Times (@TheUnRealTimes) August 1, 2014