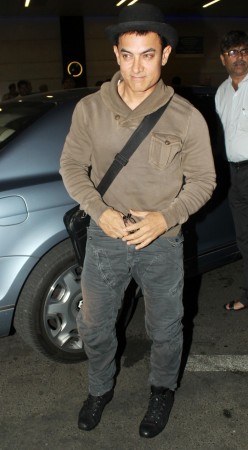 Aamir Khan's ambitious project "P.K.", in the process of shifting its release date, has settled for a clash with "Welcome Back."
The Rajukumar Hirani directorial averted a faceoff with Ranbir Kapoor-Anurag Kashyap team's "Bombay Velvet" ("BV") when it shifted its release date from 25 to 19 December, though "BV" jumped further ahead, settling for a 28 November release.
But not many know that not only "BV" and "P.K" but John Abraham starrer comedy caper "Welcome Back" ("WB") had also set a Christmas release originally. The film later opted for a 19 December release, to avoid the two biggies.
And now as things stand, Khan's film is most likely to clash with Abraham's, and the makers of "Welcome Back" say they would not do another shuffle.
"We announced 19 December as our release date first. They (makers of P.K.) have come up with the announcement now. So there's no question of changing it all over again," "Welcome Back" director Anees Bazmee told Hindustan Times recently.
"P.K." is one of the most anticipated films of the year, not just because of the perfectionist Khan's association but also since the film is being helmed by the brilliant Hirani, whose success record at the box office is hardly questionable.
Apart from Khan, "P.K." features major names such as Anushka Sharma and Sanjay Dutt, as well as a cameo by Sushant Singh Rajput. The photo leaks from "P.K." sets have shown Khan sporting eccentric outfits and wacky makeup, raising the audience speculations, which is clearly not the case with "WB."
"Welcome Back", on the other hand, features John Abraham with a relatively less popular Shruti Hassan as its leads, along with Nana Patekar and Anil Kapoor. Akshay Kumar, who added to the star value in "Welcome" (2007), is also missing from the sequel.
However, the major disadvantage that "WB" has over "P.K." is with respect to procuring the adequate number of screens. It has been reported that Khan quite intelligently has approached major single and multiplex screens owners to block the screens for his film for two weeks, post the film's release.
Anand Vishal of Fun Cinemas confirmed that the "P.K." team had indeed sought blocking the screens.
"Yes, the producers of "P.K." have asked for an uninterrupted two-week run from theatres. Fun Cinemas will decide its plan of action closer to the date of release," Vishal told Pune Mirror.
Nitin Datar, President, Cinema Owners and Exhibitors Association of India, revealed that the "P.K." team wanted a show every half hour in the multiplex screens and added: "I guess, we'll have to make some adjustments for 'P.K.' since an Aamir film is a big draw."
(Ed: VP)