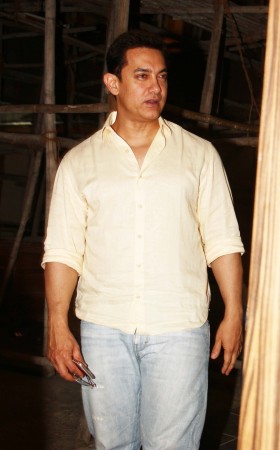 Aamir Khan, who is teaming up with Nitesh Tiwari of "Chillar Party" fame for his much ambitious project "Dangal", has been working hard to get into the skin of the character.
Recently, Khan's new salt-and-pepper look that surfaced on the internet, created a lot of buzz regarding his different looks in the film.
"Dangal" has Khan playing the role of a wrestler and will see him in three different stages of his life. The 49-year-old actor will play a 19-year-old teenager, and a 27-year-old, but a major portion of the film will see him as a 55-year-old man.
Interestingly, the actor has gained weight for his role and now weighs 90 kilos. However, soon after finishing his shoot as a heavily weighed wrestler, he plans to shed the extra kilos so as to look like a 27-year-old man.
"Right now, I am learning wrestling and Haryanvi, and putting on weight. So, you can say I am in full prep mode. Currently, I am at my heaviest. I weigh 90kg, which is a lot for a person of my height," the "Dhoom 3" actor told Hindustan Times.
Khan reveals that the portion of the film where he essays the role of an old-wrestler, will be shot first, followed by a four-month break during which he will build the kind of physique required to play the younger version of his character.
"We will take a four-month break, during which I will follow a very strict diet, similar to what I did during Dhoom:3 (2013). I will cut down my body fat to nine per cent. I have to acquire the kind of physique I had in that film and shoot for another 15 days," Khan told the daily.
The makers are looking for a Christmas 2016 release, which is Khan's lucky period and have planned the shooting schedules accordingly. "We will shoot from September to December this year. Then, I will lose weight for four months — from January-April 2016, followed by the last shoot (for the younger version of the character) in May," the "PK" star added.
While, "Dangal" is believed to be a biopic, based on the life of famous wrestler Mahavir Phogat - the father of wrestlers Geeta and Babita Kumari Phogat, no official confirmation has been made in this regard as yet.
The film will reportedly revolve around educating parents about letting their children follow their dreams.
accordingly