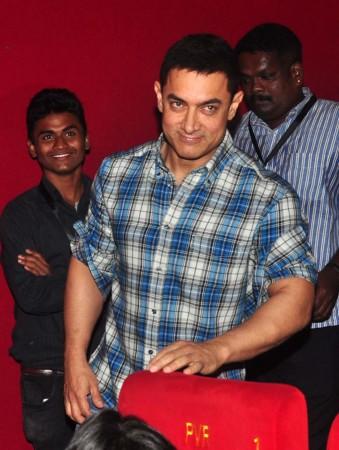 Superstar Aamir Khan, who will be soon seen in Rajkumar Hirani's "P.K.", which also has Sanjay Dutt in an important role, has made a wish to the director.
During the shoots of "P.K.", Khan used to have long conversations with Hirani and Dutt regarding the "Munna Bhai" series.
The blockbuster series that had Dutt in the lead role, seemed to have inspired Khan, who reportedly expressed his desire to play the role of Circuit, which until now has been portrayed by actor Arshad Warsi.
Khan has developed the interest in playing Warsi's character as he had portrayed a similar character in his super hit film "Rangeela" (1995) and might replace Warsi if there would ever be a third installment in the blockbuster series.
"While shooting, the three of them would have conversations about Raju sir's films. During discussions about the making of 'Munna Bhai' (2003), Aamir would always say that he'd like to do the role of Circuit. He has always liked the films and he told Raju sir that if there ever was a third installment in the series, he would love to play that role. It helps that he's played something similar in 'Rangeela' (1995)," a source close to the industry told Hindustan Times.
Dutt, who is now behind the bars, has been in constant touch with both Hirani and Khan through letters. The actor seems to like Khan's idea of being a part of the "Munna Bhai" series, the source added.
While Hirani and Dutt have been friends from long, the director also shares a good bond with Khan, with whom he worked in "3 Idiots". Moreover, during the shoots of "P.K.", both Dutt and the "Dhoom 3" actor were also said to be comfortable working together.
"Aamir is often heard saying that he would like to do the role of Circuit. Aamir, Sanjay and Raju's camaraderie is well known on the sets, which only makes it comfortable for them to work together," adds Hirani's spokeperson while the director confirms the news.
However, it now remains to be seen if Hirani replaces his much loved casts from "Munna Bhai M.B.B.S." and "Lage Raho Munna Bhai" with his favourites in its next installment.