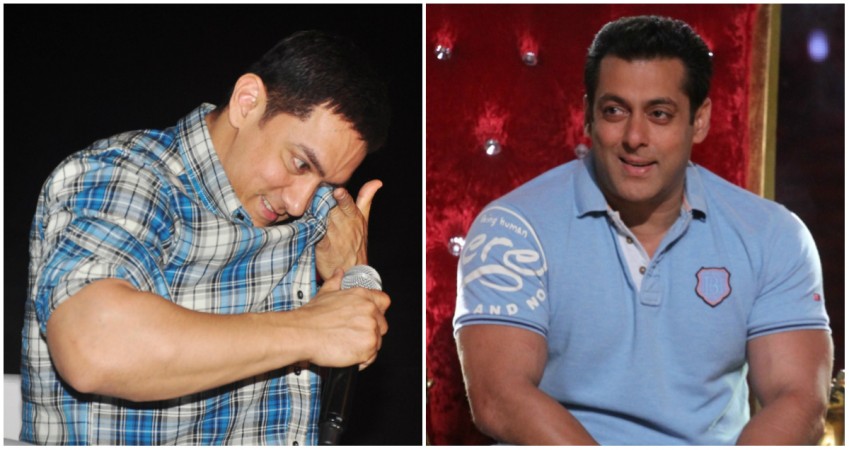 Salman Khan stirred up a controversy after he compared a hard day's work to a "raped woman." A few days ago, Shah Rukh Khan said it was not his place to judge the "Sultan" star; Aamir Khan was, however, straightforward in putting across his thoughts about the issue.
"I feel.... I was not present there... (But) going by the media reports, what he has said is rather unfortunate or rather insensitive," he told the media at the "Dangal" poster launch. At the event, he further said how Salman and SRK are bigger stars than him adding that they have that feel about them.
"Salman is a huge superstar. When he enters it looks like the star has entered and when I enter, I look like a waiter," Aamir said. However, he did salvage the situation by taking back his words. "Oh I shouldn't have said that. Waiters also work hard," he added.
Now, social media users are ripping Aamir apart for being a hypocrite, for calling the "Sultan" star insensitive and then making an inappropriate waiter remark.
Here are some tweets:
Mental Pri: The most conniving & manipulative @aamir_khan trying to create buzz for Dangal using Salman's name
Vishal Mishra: Aamir Khan while preaching that Salman's comment was insensitive ends up insulting those who works as waiter. #Karma #ActorShouldJustAct
Sυltαη✿Κi✿Dεεwαηi: @indicine Irony. I think @aamir_khan forgot about his rape jokes in 3I & his intolerance remark. He would have stood by Salman. #Unexpected
LOVE SK: @ANI_news his slip of tongue is properly reported n salman's was edited! Waah hypocrisy ki bhi hadd hoti hai!@aamir_khan
Amrut Thobbi: Aamir Khan criticises Salman Khan's rape remark and then goes on to make a 'waiter' remark. Bollywood.
A low down on how the Salman's rape remark row started and what followed.

In an interview with SpotboyE, Salman said the "Sultan" shoots were gruelling and caused him quite a bit of pain. "When I used to walk out of the ring, after the shoot, I used to feel like a raped woman. I couldn't walk straight," he told the entertainment portal.

Kangana Ranaut, Anurag Kashyap, Zoya Akhtar and Sona Mohapatra are among the few celebrities who condemned the superstar's remark calling it daft, thoughtless and insensitive. Filmmaker Subhash Ghai and former Bollywood actress Pooja Bedi batted for him.

Shah Rukh took the safe route. He told the media that he has made some very inappropriate remarks in the past few years, which is why he isn't in a position to comment on someone else's issues.

"In the last few years, I have come to realize that I have made so many inappropriate comments myself. I don't think I am someone to sit in judgment for somebody else's comment," SRK elaborated.

Salman's father Salim Khan and brother Arbaaz Khan came out in his defense saying the star's intention wasn't wrong.