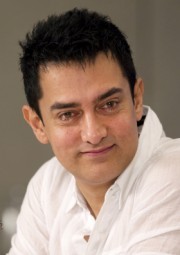 Bollywood actor Aamir Khan met Prime Minister Manmohan Singh and Minister for Social Justice and Empowerment Mukul Wasnik at the PM's official residence at Race course road in New Delhi on Monday.
Aamir discussed with the two officials several issues related to the practice of manual savaging in India and the unfair treatment given to the workers, who till today, are regarded as untouchables. The actor hoped that government intervention in this particular social issue would help abolish this disregarded profession.
Soon after the meeting which lasted for about 30 minutes, Aamir said that the PM assured to look into the issue on a priority basis.
"The PM has assured me that he will look into this matter and referred me to Mukul who heads welfare ministry," Aamir told reporters.
His famous talk show 'Satyamev Jayate' debated on untouchability in the tenth episode of the show. The guests and the organisers laid focus on the life of manual scavengers and debated on this particular social practice that largely exists in India until today.
According to the creative team of 'Satyamev Jayate', at least 300,000 manual workers are engaged in the public sanitation sector. Employed across different parts of the country, these workers are shockingly regarded as untouchables in this modern day and age.
So far, the Indian government was not successful in abolishing this disregarded profession, which was initially outlawed in 1993. In spite of the robust growth in science and technology sectors, the country continues to use humans to scavenge sewer pipes.