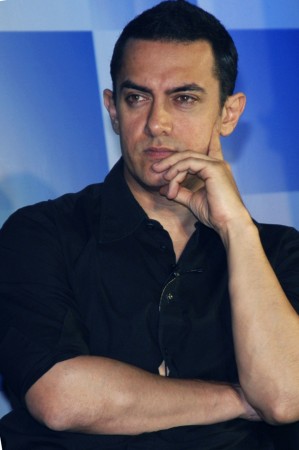 Aamir Khan, popularly known as the "Mr Perfectionist" of Bollywood, will once again be seen in a woman avatar for an upcoming commercial.
The 48-year-old actor looks stunningly 'beautiul' in a pink dress. He also wore a wig and slapped on make-up to do justice to his role in the commercial.
Speaking of the upcoming commercial, Mickey Contractor, Aamir's make-up artist said, "It's a comedy of errors where Aamir plays himself, researching the role of a woman. So he dresses as a woman and visits his neighbour's house, which leads to some funny instances," reported Hindustan Times.
Before the shooting commenced, Aamir who was on the sets of his upcoming movie "PK" called Mickey down to Jaipur for the trial of his new looks.
Speaking of his experience with the actor during the make-up trial Mickey said, "We realised the wig wasn't working, and we wanted a few other changes as well after that test."
"So we came back and worked on it. On the day of the shoot, everything came together. Aamir was a bit irritated with the wig and the net that we stuck to the side. He had to shave at least twice a day, wear stockings, a bra and a woman's costume."
Revealing that he worked for almost two-and-a-half hours to get Aamir ready for the shot Mickey said, "I customised the base colour for him, but apart from that, I used regular products like eyeliners, eyeshadow and lipsticks. His eyes are his best feature; I enhanced them with a smokey look to make the brown colour of his eyes stands out. I curled his fake lashes, which added to his suffering."
Mickey went on to praise Aamir saying that he did a good job despite being uncomfortable in a woman's attire and remained cheerful throughout the shooting.
Earlier, Aamir had dressed up as a woman for a cabaret song for the 1995 release "Baazi". The actor reportedly waxed his body for the song and sat hours together to get the make-up done for the appropriate look.
Click here to see Aamir dressed up as woman for the new commercial.