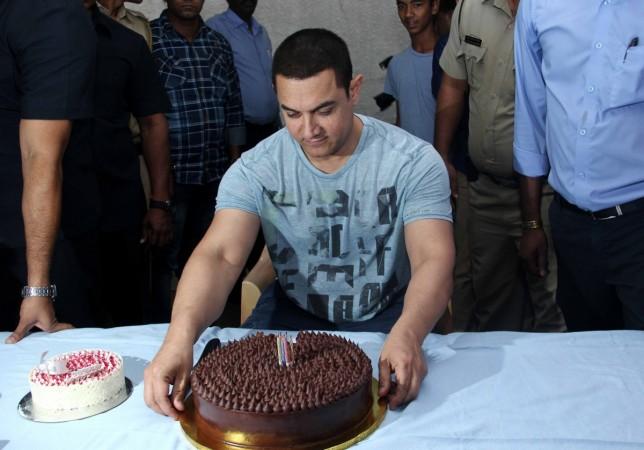 Bollywood's Mr.Perfectionist Aamir Khan celebrates his 50th birthday today (14 March) with family and friends.
While fans and well-wishers conveyed their wishes to the actor on his special day, the actor spent some time interacting with the media at a press conference and celebrated his day by cutting a cake.
Known for his comic timings, Aamir, when asked about his feeling of turning 50, said in a lighter vein that he is still 22. "Don't say that. I am just 22", DNA quoted the actor as saying.
"On a serious note, I have always believed myself to be young. I have felt young. I still feel 22 in my head because that helps me going. I do everything I used to maybe when I was 20-22. But today, the strength and power has reduced. With age, it's withering away. I don't have that much energy as I used to. But thats a change you cannot stop", Aamir explained.
Besides Aamir, the other two Khans of Bollywood also enter the 50s club this year. When asked about them, the "Dhoom 3" actor once again jokingly said: "They are also 22 like me. We three are all 22. Maybe in a few years, we will turn 25.We all are 1965 born so yes, we are all turning 50 but trust me, I say this on behalf of all of us, we are forever young and we will still be the same always".
On the work front, the "PK" star has been preparing hard for his next "Dangal". The film has Aamir play the role of a wrestler and will see him in three different stages of his life: a 19-year-old teenager, a 27-year-old and as a 55-year-old man. Interestingly, the actor's weight is 90 kg, given that he is putting on weight for his new role.