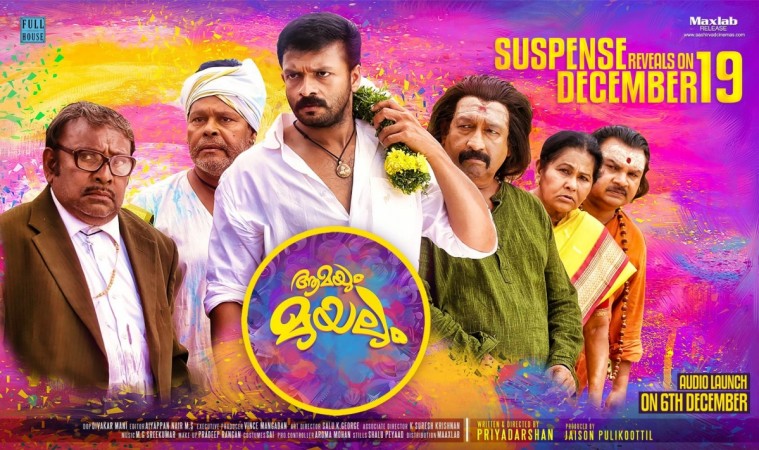 The much-awaited song in Priyadarshan's "Aamayuk Muyalaum " has been released online via Youtube. The item song, which begins with the lines, "Kaanakombile", features Bhavna Pani.
The song sung by Rimi Tomy is a folk song mixed with commercial elements of an item dance number.
The song composed by MG Sreekumar is set in a village backdrop and Bhavna is seen entertaining the crowd that has assembled for a feast. The actress had previously played lead in Priyadarshan's "Vettam" opposite Dileep.
The director has made sure that the song sequences are equally mixed well with some narrative in the background, which adds curiosity to the storyline. The song also has some prominent faces like Nedumudi Venu and Ambika.
Meanwhile, the audio and the website of the film were launched in Kochi on 6 December. The event was attended by Director Joshiy, Mohanlal, Priyadarshan, Jayasurya, Pia Bajpai, Major Ravi, MG Sreekumar, Nedumi Venu and Harishree Ashokan.
The story of "Aamayum Muyalum", which is currently scheduled to release on 19 December revolves around people who live on either bank of a river and the conflict between them. The film is touted as a folktale with a comic twist, along the lines of Priyadarshan's hit film "Thenmavin Kombathu", starring Mohanlal and Shobhana.
"Aamayum Muyalum" has a star cast of Jayasurya, Pia Bajoai, Innocent, Nedumudi Venu, Harishree Ashokan, Manianpilla Raju, Mamookoya, KPAC Lalitha, Ambika, Edavela Babu, Nandu and Anoop Menon. The film is narrated by Mohanlal.
The cinematography of the film is handled by Divakar Mani and the editing is done by Aiyappan Nair MS. This upcoming entertainer is produced by Jaison Pulikoottil under the banner of Full House Entertainment.