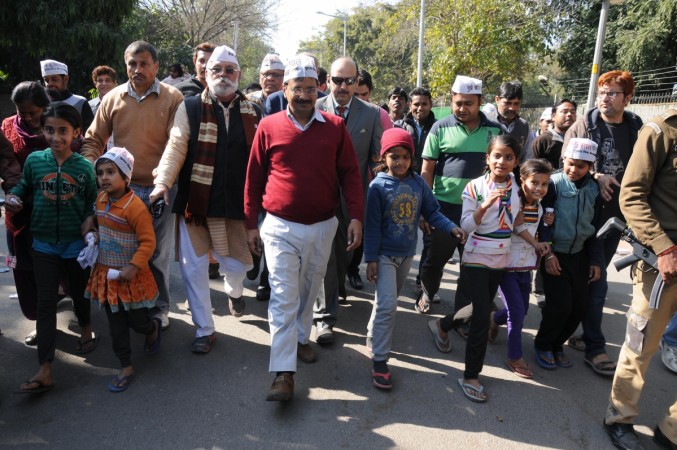 The police registered a case against Aam Aadmi Party MLA Prakash Jarwal on charges of allegedly molesting a woman.
A First Information Report (FIR) was filed by the victim at the Greater Kailash Police Station in Delhi under IPC sections 354, 506, 509 and 34. The victim also said that she went to the offices of the Lieutenant Governor and the Delhi Commissioner of Police before filing the complaint.
In response to the FIR, Jarwal has said that it was a 'political game' to defame the party and declared that he would willingly go to prison if charges against him were proven.
Jarwal also said that the woman who filed the FIR against him is a member of the Rashtravadi Janata Party. "She mentioned it in her complaint addressed to Lieutenant Governor. It is their political game to defame every MLA. She is like my mother; notice the age difference, if there is any video proof of me misbehaving with her I will quit politics," he was quoted by ANI as saying.
"I will completely cooperate with the police with their investigation. I am ready to go to jail," Jarwal added.
It seems this isn't the first time Jarwal has courted controversy. He was previously arrested for allegedly thrashing a junior engineer of the Delhi Jal Board in May 2014.
The Bhartiya Janata Party has lashed out at the Arvind Kejriwal-led government saying that women are not safe even in the hands of the people they have elected to represent them.
This is the second time a molestation case has been registered against an AAP MLA. Previously, MLA Dinesh Mohaniya had been booked on molestation charges.
A complaint was filed against MLA Ashish Khetan for hurting the religious sentiments of the people of Punjab. He had compared the state's youth manifesto with the holy book of the Sikhs Guru Granth Sahib and also depicted a picture of the Golden Temple along with the party-symbol the 'broom' on the cover of the manifesto.
In another case, AAP MLA Naresh yadav had been booked on charges of an alleged desecration of the Quran.