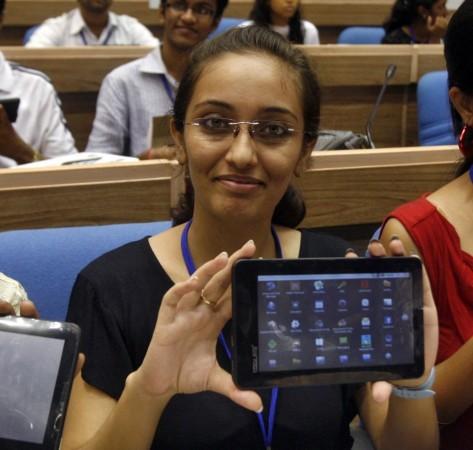 Indian technology market research firm CMR (CyberMedia Research) has revealed that the UK-based tablet maker DataWind has recorded the third highest shipments of devices in the Indian tablet market.
In 2012, DataWind was embroiled in controversies about shipment delays and allegations of its indigenous Aakash 2 tablet being a cheap import from China.
Many have expressed surprise over the DataWind's shipment results during the third quarter of 2012, but CMR claimed that the DataWind's tablet shipments results does not include tablet sales deal with the Indian Government.
DataWind sells another commercial version, its UbiSlate tablets, in different specifications on its website.
The Indian tablet market is led by South Korean company Samsung and followed by Indian handset maker Micromax. DataWind rounds up the top three tablet makers.
CMR said that Indian tablet market is expected to have touched three million in unit sales in 2012 and this year the tablet market is expected to double the sales to six million or more.
Vendors

Share in terms of total

sales in India(Q3,2012)

Samsung

23.9 %

Micromax

15.3 %

DataWind*

12.3 %
*Excludes sales of Aakash tablets to government of India.
The research firm said that the overall Indian tablet market recorded 1.1 million sales in the July-September quarter of 2012. The company also revealed an interesting fact that nearly 135 tablet vendors released their devices into the India market till the end of the third quarter.
Reacting to the results of the CMR study on the India Media Tablets market during that quarter, Tarun Pathak, Analyst, CMR Telecoms Practice said, "I expect this to be the last quarter that will show the kind of 'stereotype' ranking results typical to the India market. During 4Q 2012 and through 2013, we expect to see a change in the rankings, with global leaders like Apple and Google coming into their own, especially after the launch of the Apple Mini and Google Nexus range of Media Tablets, respectively."
He further said, "These new devices closely match the Media Tablets already available from other leading OEMs in India, in terms of specifications and price levels. This is particularly true of Samsung. So it will be interesting to watch if potential buyers of Tablet PCs go for other MNC brands or whether Samsung is able to retain their loyalty."
The research firm also revealed the trending features in terms of tablet's specifications.
Feature

Trending

Share in terms of

total sales of tablets

Connectivity

Wi-Fi

63.2 %

Display

7.0-inch

77.9 %

OS

Android

91.3 %

Processor Speed

1 GHz

62.8 %

RAM

512MB

56.4 %

Voice Calling

No

62.9 %
CMR also revealed that the ASV (Average Sales Value) of tablets in India during the third quarter was approximately Rs 13,200, while 63.5 percent of all sales were below the Rs 10,000 mark.
CMR predicts that tablet makers will introduce 4G/LTE based devices in India in 2013 and Windows 8 OS based tablets is expected to be the highlight of the market.