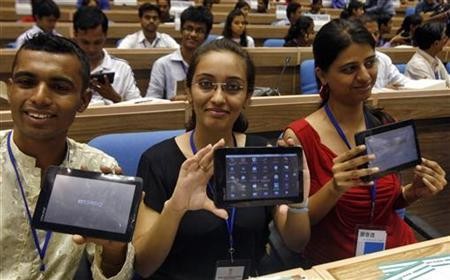 The third version of Indian-made tablet PC Aakash is all set to become a truly mobile device next year. Aakash-3 will feature a SIM-card slot to make the tablet PC more desirable to tech savy Indians and young adults alike.
About 50 lakh Aakash 3 tablets are expected to roll out in the next phase, the global tender for which may be floated in February next year, reported PTI.
"Our ultimate aim is to imbibe the usage of tablets in the education system and create an ecosystem for this," said Deepak B Phatak, committee member and professor in IIT- Bombay's Department of Computer Science and Engineering.
Aakash 3 will have a faster processor supporting both Linux and Android operating systems and come with advanced memory, he said.
Phatak further said, "It could also have a SIM card slot so that people can use it as a communication device", reported The Economic Times.
The previous two versions of Aakash tablets supported only Wi-Fi connectivity. With no SIM-card support consumers were restricted to use the device only around Wi-Fi hotspots. Now, Aakash-3 is pegged to feature a SIM card and also the latest Android mobile operating system with bigger memory space all within the existing price tag.
The device's predecessor Aakash 2 was released just a month ago in November, but its unveiling was marred by allegations that the indigenous Aakash 2 tablet was a cheap import from China.
Later, tablet PC maker DataWind Chief Suneet Singh Tuli clarified that Aakash 2 was originally designed in India, but due to "expediency sake" the mother boards and kits were manufactured in China.
This time DataWind is hoping to debut Aakash 3 without any controversies.
The Aakash 3 tablet PC is developed under guidance of IIT-Bombay Prof Deepak B Phatak, Prof Ashok Jhunjhunwala of IIT-Madras, and others. The project will be assisted by many IIT students and manufacturing partners of DataWind.