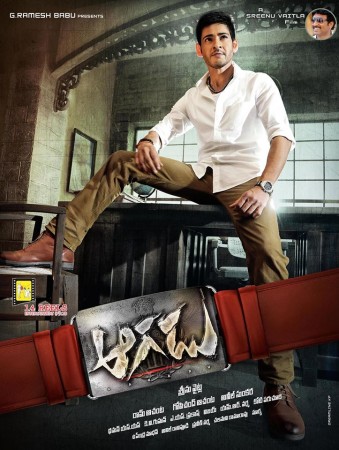 Mahesh Babu's much-awaited "Aagadu" has received decent reviews from critics.
Directed by Srinu Vaitla, "Aagadu" is touted to be a complete commercial entertainer with Mahesh playing the role of a cop. The film also has Tamannaah, Brahmanandam, Rajendra Prasad, Sonu Sood and Nassar in supporting roles.
There is a huge buzz surrounding "Aagadu" and it needs to be seen whether the film will impress the audience.
Plot: Encounter Shankar (Mahesh Babu) is posted as Circle Inspector in Bukkapatnam, where a don named Damodar (Sonu Sood) runs illegal activities. Shankar decides to take on Damodar and destroy his empire, at which point he also comes to know about a shocking truth that is connected to his family. Shankar's professional rivalry becomes personal and how he manages to destroy Damodar forms the crux of the story.
Critics have termed "Aagadu" as a decent entertainer with comedy and action. However, the Mahesh Babu starrer offers nothing new and is just a typical Srinu Vaitla film.
Mahesh Babu's performance has won accolades with critics citing that the actor has carried the film on his shoulders. Tamannaah looks beautiful as a village girl, while Shruti Haasan charms the audience with her dance moves in a special song.
Brahmanandam's comedy evokes laughs in parts, while the other actors including Sonu Sood, Nassar, Vennela Kishore, Posani Krishna Murali, Rajendra Prasad and Ashish Vidhyarthi have done their parts well.
Critics have stated that the first half is entertaining, while the second half becomes predictable after the twists are revealed.
Check below the review roundup of "Aagadu"
"Aagadu takes off on a high note with a powerful introduction scene of the protagonist, followed by a fight and an introduction song. Starting scenes of Mahesh as cop are very good and gives the movie a promising start. However Srinu Vaitla failed to maintain the same tempo even for a span of fifteen minutes. The graph of the film goes up and down with a good scene followed by two bad scenes," according to Gulte.
"With Aagadu, Mahesh Babu once again proves his super stardom. Right from the word go, it is Mahesh, Mahesh and only Mahesh throughout the film. Even though this film has routine similarities to Vaitla's previous flicks, entertaining comedy in the first half coupled with some decent music makes this film an​ ok​ ​family entertainer," said 123telugu.
Performances: "Mahesh gets into the skin of his character and does his job phenomenally. He doesn't go over the board in expressing his character's attitude. He strikes an instant rapport with almost everyone. His pairing with Tamannah was awaited with expectations but one feels Tamannah was not properly portrayed. She has got not many dialogues and everywhere, she is seen jiving with Mahesh," according to Indiaglitz.
"Rajendra Prasad plays a cameo. One wishes he had more screenspace. Brahmi as 'Delhi' Suri is used as an instrument and the template is old. MS Narayana and Vennela Kishore entertain," the website stated.
Technical Aspects: "Couple of songs composed by SS Thaman were good and his background score is not bad either. Prem Rakshit does a good job as choreographer. KV Guhan's cinematography is an asset. Dialogues pack a punch. Editing isn't up to the mark. Production Values are grand," according to AP Today.
Boxoffice Prospects: "Aagadu" is expected to take grand openings considering the huge buzz surrounding the film. However, the film's overall performance will depend on the audience's reaction. If the Mahesh Babu manages to entertain the audience, it is likely to fare well at the box office.
Verdict: Out and Out Mahesh Babu Film