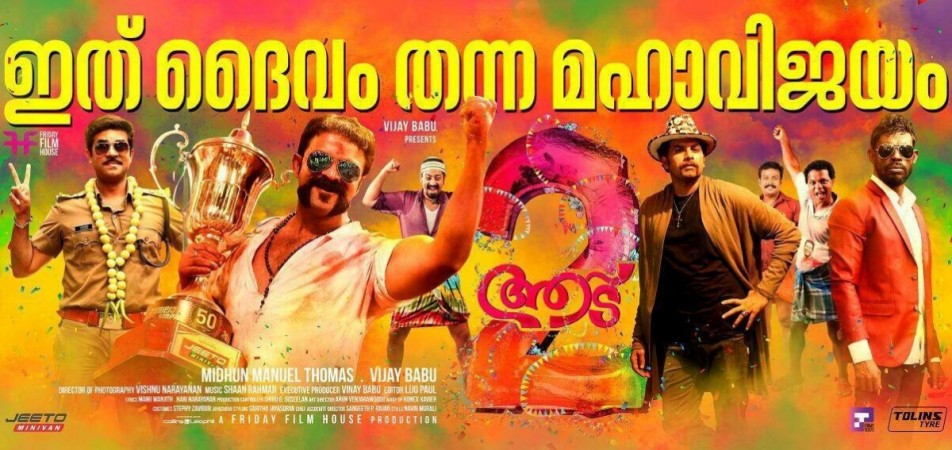 While Aadu 2 is making up for the losses of its predecessor Aadu Oru Bheekara Jeeviyanu at the box office, the makers have turned up with a peppy success celebration song. The song is made using important scenes from the movie and theatre responses like Shaji Pappan's fans celebrating Aadu 2 success.
The fast-paced number features Shaji Pappan sporting his iconic two-coloured "Mundu" get-up, along with all the partners in crime. The song also pays tribute to the viewers by featuring exclusive footage of celebrations from various theatres in Kerala.
Jayasurya and producer-actor Vijay Babu also addressed the viewers through a Facebook live video to thank them for the overwhelming reception at the box office.
Sharing the joyous mood of success, Jayasurya bantered with Vijay Babu that the producer has been suffering from a broken back after relentlessly counting the money pouring in from theatres. He also revealed that Vijay Babu has hoarded around 15 painkiller balms to get rid of the pain.
The actor-producer duo also said the movie will hit theatres outside Kerala on January 5.
They didn't forget to warn those who share photos and video clips recorded with mobile cameras from theatres on social media platforms.
Earlier, around 3,000 Facebook pages were reportedly removed or blocked because they shared the clips from the movie.
With increasing support from the social media, Aadu 2 is on its way to become one of the biggest hits in Jayasurya's career. Along with the iconic characters in the movie like, SI Sarbath Shameer, Dude, Satan Xavier, Arakkal Abu, and Pinky, the goat, Shaji Pappan is ruling the Mollywood box office.
The movie also holds the rare record of becoming a blockbuster even after its predecessor bombed at the box office. In the theatre responses included in the success celebration song, the viewers are seen wholeheartedly embracing Shaji Pappan and his team of menaces.
While 2018 closes in, Jayasurya tops the top male actors' lists with two blockbusters to his credit. The actor hit a jackpot with both his 2017 Mollywood outings — Punyalan Private Limited and Aadu 2 — which garnered both critical acclaim and commercial success at the box office.