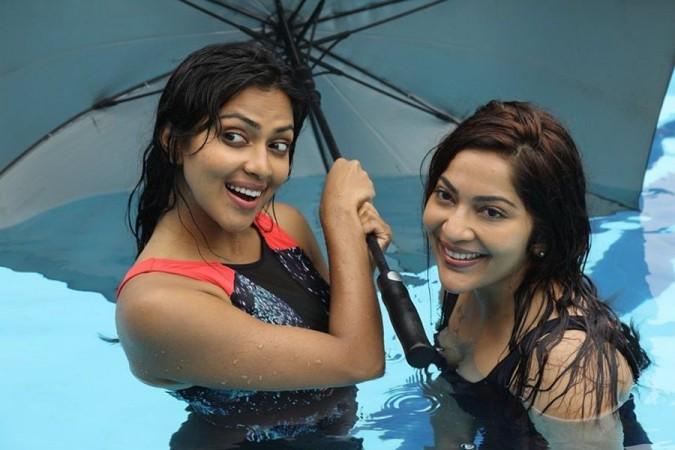 Breaking away from the stereotype movies, Amala Paul has attempted something that she had never done before nor imagined until director Rathna Kumar knocked her doors with the exciting script of Aadai. She has taken the boldest-ever character of her life and done such scenes which A-list actors might think twice before approving such films.
After making his debut with Meyaadha Maan, Rathna Kumar approached Amala Paul, who had been in a hunt for good script and was planning to quit films as good stories were not coming her way. The actress was excited about the storyline and the surprises, but nervous about picking up the project as she was not unsure of doing bold scenes.
Not just kissing a person with same sex, but going full nude was the major challenge for her and she pulled off in style. It became clear after the release of teaser as Amala Paul was hailed for taking up a courageous role.
Story:
The story is about Kamini, a crazy, eccentric, weird, selfish and unapologetically girl. It deals about the painful episode in her life after finding herself nude in an office. The movie will address a serious issue plaguing our society.
Reviews:
Amala Paul's Aadai, which is releasing in Telugu as Aame, has piqued a lot of interests with its poster, teaser and the trailer. The makers have not given much about the storyline, thereby building a lot of hype. Will it live up to the expectations? Check it out in the viewers' words below:
Surendhar MK: #Aadai is a finely written film from Rathna Kumar. A surprise followup to #MeyaadhaMaan.
@Amala_ams turns in an unflinching performance as Kamini. Easily, one of the bravest roles ever. She quietly brings out her stout-hearted attitude as well as vulnerable traits in 2nd half
#Aadai is likely to polarized views from viewers and should set in a series of healthy debates on what constitutes the real freedom of expression and whether it can be quantified or subjected to any inference. Rathna Kumar churns out another original film with some nice moments.
Sreedhar Pillai: #Aadai is a well made articulate film from
@MrRathna without pandering to any sort of titilation. The film revolves around
@Amala_ams in a challenging role. She is simply terrific as Kamini.
@ramyavj has a meaty role. Post interval it becomes a bit preachy. Still a bold attempt.
Arvind Sundaram: #Aadai - really liked it! Has few flaws in the writing, but on an overall picture, those can be overlooked. Has some intense and nail biting moments to keep you glued. A very different experience, a bold effort, and an important message told!
Karthick Krishna: #Aadai Bold and Beautiful... has some issues but overall a very good attempt... dir rathnakumar @MrRathna is a director to look out for and vijay karthik kannan's cinematography and
@Amala_ams's acting is sure gonna win awards !! go watch it !!
Sreekanth TR: #Aadai What a terrific film ,ends with a beautiful thought provoking message . Kudos to you
@Amala_ams Your passion , dedication and authentic labour of love is visible at every frame. Lots of accolades on your Way ams #ProudFan .Hats off @MrRathna a pat on your head
Rajasekar: #Aadai - 3.5/5, shocker at various proportions. @Amala_ams
deserves all the awards next year for pulling off a role which deserves huge mental and physical strength.
@MrRathna's film will create a debate how modern women should use the hard earned freedom.
DOP Vijay Karthik Kannan must be appreciated for showcasing his heroine with utmost dignity. Any slight mistake in Vijay's frame would have made #Aadai as a crass film but he understood his responsibility and represented
@MrRathna' s thoughts with perfection.
#Aadai 1st half - Google #Nangeli, you will be surely talking much about her sacrifice for the freedom of today's women. Shocking to know that there was a tax to cover your body with a cloth of your own choice. Hats off
@Amala_ams for playing an unapologetic Kamini.Bold &daring
Special shout out to Sync sound / Live sound done by
@sampathdft
Hari Krishna Raju: #Aadai with a solid message (little preachy though) & unique premise (survival drama) - is first of its kind in our cinema.. touches upon many points like feminism , misuse of freedom, being judgemental, meetoo but lacks the depth to leave an impact.. nevertheless worth a watch
S Abishek: #Aadai is a bumpy ride but the jumps were worth it
Towards the end, the film comes full circle.
@Amala_ams has pulled off the act of the year.
This one is a must watch for those high points
All the shitty films that
@Amala_ams claimed to have done just went off like a speck of dust.
This is not about being audacious. The actress has given life and energy to the role like nobody else. #Aadai
This man #Vijaykarthik literally plays with the lens flare
Special mention to @sampathdft for providing the sync sound chills
Such fresh breath of air from #Shafique in the editing department. #Aadai
sridevi sreedhar: #Aadai interval report: Engaging! #BoldContent
@Amala_ams lives the role of Kamini , so convincing ..
@ramyavj is good The curiosity factor is at its peak!
Review Ram: #Aadai (Tamil) - #AmalaPaul's nude scenes were aesthetically shot, not even a single frame is vulgar. The cinematography is absolutely mind-blowing. Wish the situations could have been a little more impactful.
Commendable performance by #AmalaPaul, technically brilliant, unique premise with a solid climax. But it is not great as a film. The second half writing could have been better. Also, the supporting characters needed more depth. Overall different experience.
#Aadai (Tamil) - Interval - Weird, interesting, gutsy and different. The prank sequences are fun and will connect well with the youth. The title credits was personally a superb shock for me. The flow of characters, situations and plot-points are engaging. 'Fine' so far.
Biju Peter: #Aadai on the negative side..... The film is little long ...some comedy has been forced into the narration to make the subject lighter...which could have been avoided especially the cop's family.
#Aadai It leaves you with the suttle thought about the definition of feminism....equality or freedom or the right to do anything or wear anything? Kudos to the team to pull out something like this in a commercial format. @MrRathna
Sidhu: #Aadai Interval: Stunning is the word. Gets everything right from the start, there are hardly any dull moments. The way the comics have been stitched in to balance the shock value is pure wow material.
@Amala_ams , hats off!