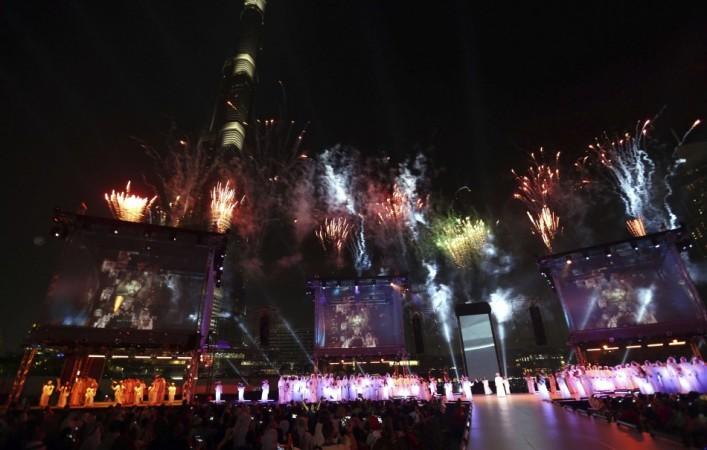 The New Year celebrations in Dubai will be marked by a spectacular riot of firework and an extravaganza of mesmerizing images.
With the firework display, which is set to be launched from over 400 points, Dubai aims to celebrate its way into the Guinness Book of World Records. The elaborately choreographed firework show will have musical soundtracks, accompanying the fireworks and spectacles. Over 400,000 fireworks will be put to use for celebrating New Year 2014 in Dubai.
The live spectacle will create images of "flying falcon", and a 10km wide "sunrise" scene over a 100km seafront at The Palm Jumeirah and The World Islands. The highlight of the show at Jumeirah will be an image of the UAE flag spanning 29,250 square meters. It will be the largest pyrotechnic flag ever displayed.
The Dubai government has employed 200 expert pyro-technicans, who will use pixel-burst technology - that uses embedded computer chips for precision firing - to create the spectacle.
More than a million people are expected to travel across the city to reach their celebratory points. The city is expecting heavy traffic and hence the road transport department has already sent out circulars, urging the public to use mass transport to commute in the city on New Year's eve.
In the meantime, as the city is getting ready to welcome 2014 by setting new world records, the hotel room rates soared. Reportedly the prices, compared to New Year 2013, has shot up by 300 per cent, booking websites reveal.
Meanwhile, there will be an additional firework display for 15 minutes after the world record attempt. The 15-minute extended show will cover Jumeirah beach, with the Burj Al Arab, Madinat Jumeirah and Jumeirah Beach Hotel as the backdrop.
The annual Burj Khalifa firework display in Downtown Dubai will be held shortly before midnight and will last 20 minutes. Those at the Dubai Festival City can also enjoy the fireworks, along with synchronized light and water show.
There has been an increased sense of celebration in Dubai, after the city won rights to host the 2020 World Expo that promises to bring billions of dollars of investment.
To watch live stream of New Year Celebrations 2014 - Burj Khalifa Downtown Dubai (Click here)
2012-2013 NeW Year Fireworks at Burj Khalifa