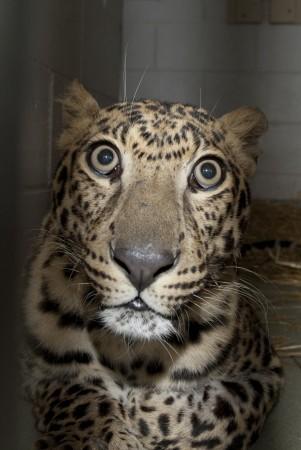 A leopard from the Sanjay Gandhi National Park on Saturday morning strayed in to NES International School, Mulund, where Forest Department pressed its officials to tow away the big cat from the school.
Around 10:30 am on Saturday morning, a maintenance staff noticed a cat-like, although, quite big in size, animal loitering at the school campus and slowly moving in to the basement of the building.
However, as the school was closed for an annual programme that was scheduled on Saturday evening, school teachers and children were not present at the premises. Only few staff logged in to their work when the leopard made a surprise entry into the school. Fortunately, the absence of usual strength in the school averted what would have otherwise turned into a possible tragedy.
The maintenance staff locked the basement door on observing the leopard going inside the building and informed college authorities about the wild guest. Later, the forest department was alerted about the incident and they reached the spot within 30 minutes to carry out the rescue operation.
The leopard had supposedly loitered out of the nearby national park in search of food and water in and around residential areas. It entered the NES International School, Mulund, which is quite close to the Sanjay Gandhi National Park.
The forest officials who arrived at the school first planned to tranquilize the leopard and whisk away it to the place where it belongs. However, it didn't come off as planned by the officials and became complicated instead.
The leopard hiding inside the basement building refused to come out so the forest officials could inject it with a dose of tranquilizer and get over with the rescue operation soon.
Later, the forest officials mapped out another method to nab the defiant leopard. The forest authorities set a cage at the basement with a hen inside in order to attract the animal to step inside the trap.
Executing a planned operation, the officials burst firecrackers to scare the leopard out of its safe house and enter the cage using a bird as a bait. However, the wild cat refused to walk inside the cage, said officials.