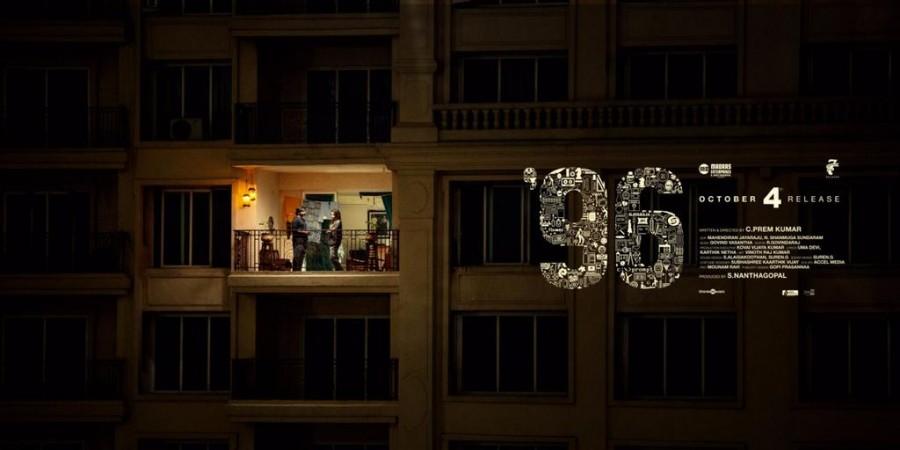 A week after garnering appreciation for his performance in Chekka Chivantha Vaanam, Vijay Sethupathi is back with another movie. He has collaborated with C Prem Kumar for his latest movie titled 96 in which Trisha Krishnan enacts the female lead.
Varsha Bollamma, Devadarshini, Bagavathi Perumal and others are part of the supporting cast. The film has Govind Menon's music and five songs that include Anthaathi, Vasantha Kaalangal and Kaathalae Kaathalae numbers that have struck the chord with the viewers.
The movie has R Govindaraj's editing and Mahendiran Jeyaraju along with N Shanmuga Sundaram's cinematography.
Story:
The movie tells the story of Ramachandran (Vijay Sethupathi), a passionate travel photographer. He gets an opportunity to come to his hometown Tanjavur for a reunion and it takes him down the memory lane as he recalls sweet memories from his childhood. He also meets his first love Janaki Devi (Trisha Krishnan). Despite many contradictions in their characters, they fall in love, but certain situations lead to their separation.
Will they rekindle their relationship? Watch the movie in theatres to know the answer.
Reviews:
The movie had a press show recently from which it has garnered a stupendous response from the critics. The story and solid performance have been praised by the reviewers. Will the movie impress the audience? Find it out in their words here:
Christopher Kanagaraj: #96TheMovie - Fabulous perf from Vijay Sethupathi, Trisha & their younger versions. Young Trisha's expressions r beautiful. Ilayaraja's connect adds magic. Soothing music & 'wow' songs. But Missed 'Anthathi..'. Poetic, sweet & soulful narration. A Feel Gud, Pure 'Romantic' film!
A2 Studio: You can feel the chemistry, the sparks flying, but no overtures, only simple & pure love. The duo emotes as they talk while on a walk & their sincere outpourings begin to make you wonder as to why can't they just be in unison!
Baradwaj Rangan: It's wonderful that movies that need nurturing are being screened for the press much in advance. I missed the #96TheMovie show, but am happy seeing the reviews. It's how it's done in the US. Early (good) reviews will definitely help 'different' films. PR people, please take note.
Sidhu: With Jessie and Jaanu, @trishtrashers now owns two of the most lovable female characters in Tamil cinema. Her career-best performance comes in #96TheMovie, a matured act excelling in the emotional sequences superb!
Rajasekar: #96TheMovie - Without any intimate scenes @Premkumar1710 passes love to our hearts with two dignified souls @VijaySethuOffl @trishtrashers. They never say 'I Love You', they never argue for silly reasons, no ego trip&all we see is pure love. A unique romantic tale in Tamil cinema
#96TheMovie - 4/5, It's not an easy task to pull off a film with just two characters throughout the second half. Easily one of the realistic romantic dramas released in Tamil cinema. Thoroughly enjoyed @VijaySethuOffl @trishtrashers @Premkumar1710
#96TheMovie - 4/5, flawless poignant romantic drama. The ending is as real as most of the school love stories in real life. Thanks to @Premkumar1710 for not adding any cinematic clichés. Lovely lovely performances from @VijaySethuOffl & @trishtrashers ❤️
#96TheMovie - the choice of actors for the childhood versions of @VijaySethuOffl - @trishtrashers and all other characters are picture perfect. @Premkumar1710
#96TheMovie first half - woah, a heavenly feel-good romantic drama that takes us to the pleasant school days. Brilliant so far, a delightful walk down the memory lane. @govind_vasantha is the film's biggest strength. Outstanding performances from @VijaySethuOffl - @trishtrashers
Haricharan Pudipeddi: #96TheMovie - 5 stars. A heartwarming tale of love and letting go. Amazing how the film through its lead characters conveys so much about love without actually saying it on screen. Absolute joy to watch @VijaySethuOffl and @trishtrashers but this film belongs to @govind_vasantha
Richard Mahesh R: #96TheMovie - Ram-Jaanu you just made us go through an unrecoverable experience. How to express in words? Magical, Pain, joyful tears or memories to cherish - it's beyond words. An amalgamation of poem and painting together. 157 minutes of deep joy pain and smile. Loved it
Kaushik LM: #96theMovie #96Movie - My rating 4/5.. Nothing much to fault here..
Porumaiya Azhaga oru Padatha eduthurukaanga.. Grt acting meets Grt filmmaking.. Joins the list of Indian romance classics..
sridevi sreedhar: #96theMovie BRILLIANT! Best film I've seen in a long time . A big round of applause to the entire team of
@VijaySethuOffl & @trishtrashers who are outstanding and the unseen heroes @Premkumar1710 @govind_vasantha