Rooting an Android device can be challenging, especially if you have limited knowledge on working around the software side of your smartphone, and not to mention the process actually voids the warranty. On the bright side, rooting a device unlocks unexplored potential within the phone to let the users customise it the way they want.
In case you are sceptical about the tedious rooting process, but wish to have the personalisation choices that come with it, then you are in luck. Mobo Live Team's 91 Launcher Pro comes to the rescue of those who are looking for fresh user experience on their phones all the time. With this one launcher, you can have different themes, wallpapers, settings, effects and more.
Let's dig into the details of 91 Launcher Pro and what it has to offer:
But first, it is worth mentioning that the launcher works with Android smartphones running Android Gingerbread v2.3 and above, which is practically the majority. You can download 91 Launcher Pro from Google Play Store for free.
As you download 91 Launcher Pro on your smartphone, it will get started by asking you to choose your theme from the two options. And if you think that's as far as it gets, think again. 91 Launcher Pro is just getting started and you are in for series of treats.
After choosing your favourite style, you can start exploring the nooks and corners of 91 Launcher Pro. We are going to assist you to make the most out of a great mobile phone launcher, which outperforms almost every other one with its extreme customisations.
Themes and wallpapers
91 Launcher Pro has a wide library of wallpapers and themes for you to download. It is essential that you are connected to the internet to take full advantage of 91 Launcher Pro features. Users can find the attractive themes and wallpapers by clicking on Personality in the home screen.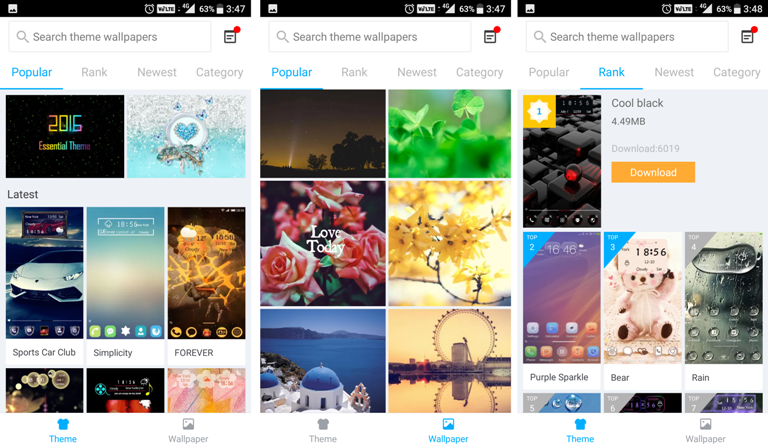 You can search themes and wallpapers by their popularity, ranking and categories like animals, flowers, seasons, supercars and more. If you are looking for a specific themes or wallpapers, there is a search bar at the top to use keywords like "car," "dog" and more.
Even without having to download a theme or new wallpaper, the default ones are just as great. There is a special button called "Shuffle" on the home screen, and tapping on that once will change the wallpaper to something new. You can tap it as many number of times, and new wallpapers will keep changing.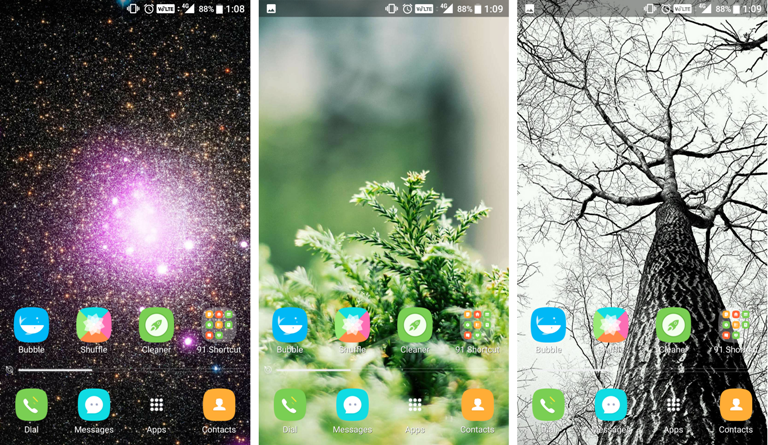 91 Launcher Pro shortcuts and settings
On the default home screen, you can swipe left and right for more options. You can also add app shortcuts from the menu on the home screen to quickly access them. Swiping to the extreme left brings up a preview of what you might like to see on the internet like "hot news topics", "app suggestions" and "most used apps."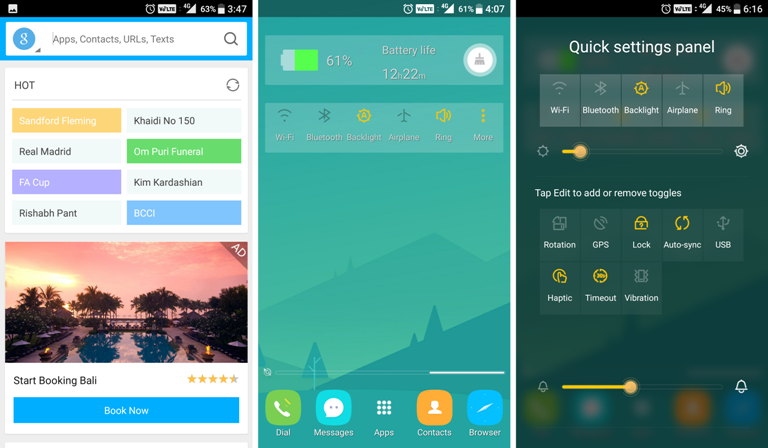 Interestingly, as shown above, there is a quick settings panel right on the home screen, which lets users access options like wi-fi, bluetooth, airplane, GPS, ring and more without having to swipe down the notification panel. You can also adjust the brightness and ringtone levels right from the quick settings panel.
In addition to that, you can also add some cool effects, change the way your icons look and much more. Simply hold down your finger on the home screen, and you will get options to change effects, add a widget, add an app to the home screen, directly access settings, preferences and use "Quick Beautify" to easily choose from different themes and wallpapers you have downloaded.
Under Preferences, you can access launcher-related settings. Users can choose preferred desktop style, change size and colours of icons, activate gestures, backup and restore all your favourite settings, and also get full charge and low battery reminders.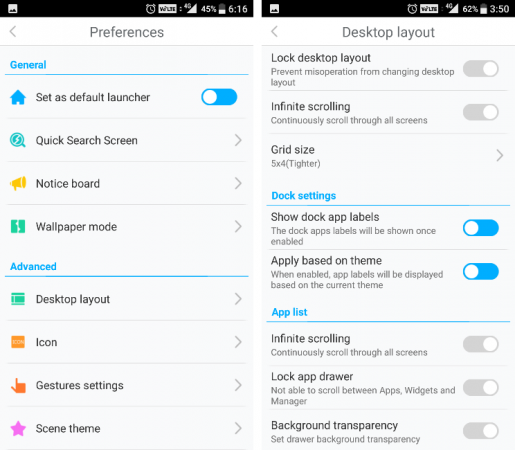 Once you enter the menu, you can also access widgets and manager by swiping towards right. The three vertical dots at the bottom right hand side lets you access launcher settings, hide apps, create folders and sort apps alphabetically or based on how often they have been used and based on when they were installed. Users can also let 91 Launcher Pro automatically place apps in folders by detecting their nature, which is done quite smartly.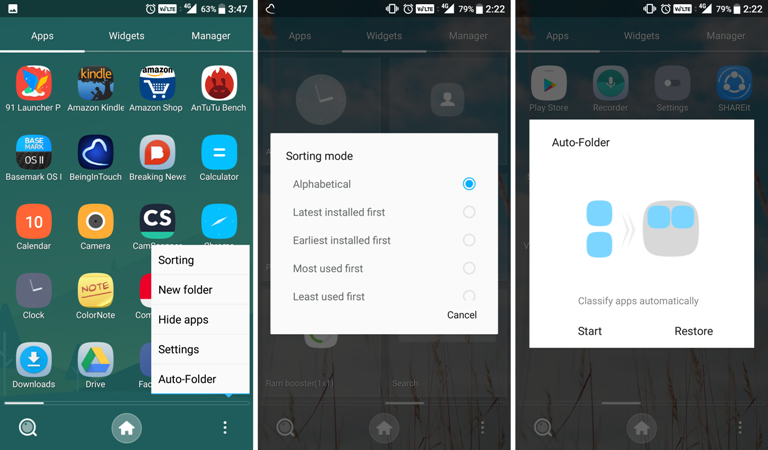 Helpful tools
91 Launcher Pro also has some helpful tools such as cleaner, battery and apps manager under manager. There is a folder called 91 Shortcut on the home screen to quickly access them all with a single tap.
Cleaner app boosts the smartphone's performance by cleaning memory, trash, notifications, big files and auto-startups. Similarly, battery app optimises your phone's battery life by suggesting what settings and apps needs to be closed. Finally, the apps manager will let you uninstall apps, move apps to SD card and clear defaults on apps. Overall, it is a one-stop-shop for all your smartphone repairs.
91 Launcher Pro gives users extended privacy options that are not included in default launchers. You can hide apps from your menu and also lock folders by placing all the apps in that. To do so, simply open the folder and tap the lock icon.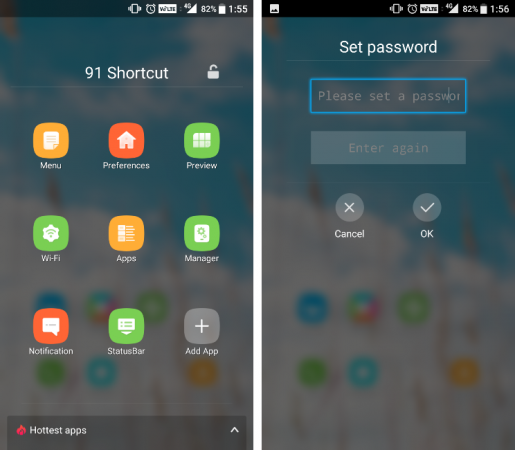 Verdict
With all these cool features, 91 Launcher Pro is an incredible app for your Android smartphone. So if you are bored of using the default launcher for several years or even months, 91 Launcher Pro is a must-have app for your phone.
With its built-in capabilities, 91 Launcher Pro not only adds visually appealing features, but also improves the performance of your phone. Even with all these premium-grade features, 91 Launcher Pro is a free app, which makes it quite unique and appealing.