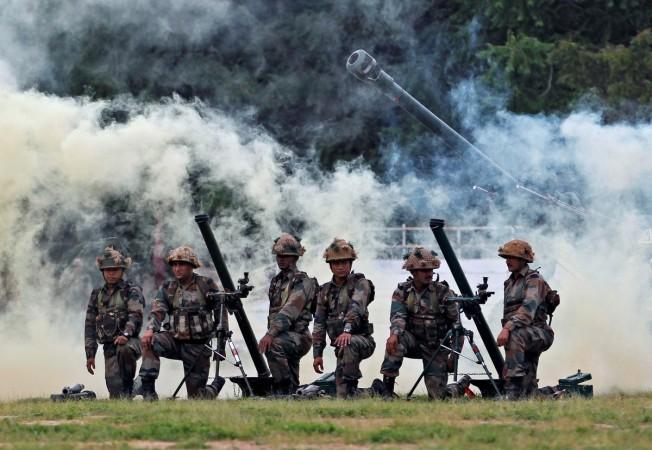 After a wait of about nine years, the infantry soldiers of the Indian Army are finally set to get new bullet-proof jackets. The defense ministry Monday, April 9, signed a Rs 639 crore deal with domestic private company SMPP Pvt. Ltd to procure 1,86,138 bullet-proof jackets.
While this might be a step ahead, the numbers reportedly still fall behind when it comes to the actual requirements of about 3.53 lakh bullet-proof jackets.
However, the army has said that the procurement will meet its current need of bullet-proof jackets and will be a huge boost to the safety of soldiers.
"The contracted BPJs have contemporary and state-of-the-art specifications with added protection level and coverage area," The Times of India quoted an official as saying.
"These ergonomically designed BPJs have modular parts, thereby providing immense protection and flexibility to soldiers operating in different operational situations ranging from long-distance patrolling to high-risk room intervention scenarios."
The army personnels' have been using old and bulky bullet-proof jackets until now, which not only make it difficult for them to operate with ease but aren't as effective as the modern ones. The official explained that the new bullet-proof jackets that the personnel will receive comes with 360-degree protection and can also safeguard soldiers from "hard steel core bullets."
"The new jackets meet the most advanced GSQRs 1438 (technical parameters) standards of the Indian Army. These BPJs have 'Boron Carbide Ceramic', which is the lightest material for ballistic protection," SMPP chairman S C Kansal added.
However, the infantry soldiers of the Indian Army will be able to don these state-of-the-art jackets only in a few months time. The delivery of these jackets will start in the next few months and it will take the company three years to complete the order.
Over the last few years, scores of soldiers have lost their lives due to lack of these jackets and advanced pieces of equipment. In March 2016, the army had acquired about 50,000 bullet-proof jackets on an emergency basis, but these too were not as advanced as required.
The deal comes just weeks after defense minister Niramala Sitharaman acknowledged the fact that the army was running low on reserves of ammunition. However, speaking at News18's Rising India Summit, she said: "I am glad to say we have addressed the issue and have enough ammunition for 10(I) or ten days of intensive war. The vice chiefs have been given enough power and enough financial limits have also been sanctioned."