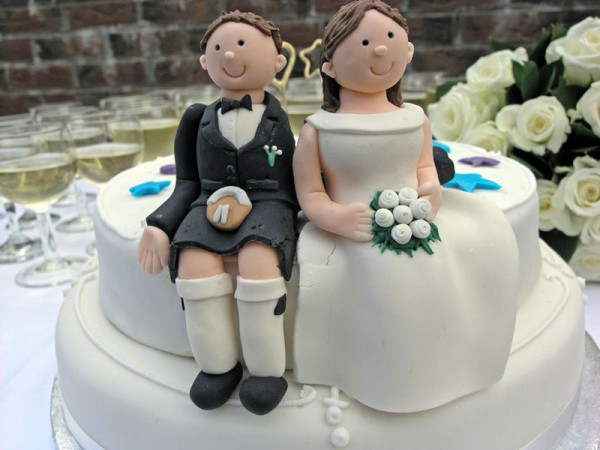 A nine-year-old South African boy, who grabbed international headlines in 2013 for marrying a 61-year-old to please his ancestors, renewed his wedding vows last week in front of village elders.
Sanele Masilela is the youngest of five children and the bride, Helen Shabangu, is a mother of five. While the bride wore white, the groom wore a silvery tuxedo. They exchanged their vows in their village in Mpumalanga, South Africa, last week.
Although Masilela knew that the first wedding was just a ceremony to please his ancestors, he wanted to follow South African tradition, and insisted have the second ceremony be performed to make their marriage official, reported Mirror.
Click here for the video of their second wedding ceremony.
Villagers have expressed their disgust at the union, but Masilela's mother, Patience, and Shabangu's husband of 30 years, Alfred, and their five children, have been supportive.
"Sanele was fine and he was happy about the ceremony last year and it what he wanted – he was not shy. He was just happy to get married, very excited and was not embarrassed about it. So much so he wanted to do it again," Patience was quoted as saying by Mirror.
"After the wedding last year people keep asking them question like will they live together, sleep together, have babies but I keep telling them that after the wedding everything went back to normal - nothing changed.
"Sanele moved to Venda not long after the wedding because he wanted to learn a new language, but they are very close. Our families are very close.
"It was nice celebrate with a wedding once more, it was after all a calling from the ancestors. By doing this we made the ancestors happy. If we hadn't done what my son had asked then something bad would have happened in the family," she said.
Alfred too is aware of the flak his wife has drawn due to the unconventional marriage ceremony. But he too appears to have no regrets, as he stood next to his wife during last week's ceremony.
In the meantime, the groom hopes to marry someone his age once he is older. He admitted that although they do not live together, he gets an opportunity to meet his bride whenever he visits the dumping site where his mother works.
"When I'm older I will marry a lady my own age. I chose Helen because I love her and, although we don't live together all the time, we meet at the dumping site where my mother works regularly," Mirror quoted the nine-year-old as saying.