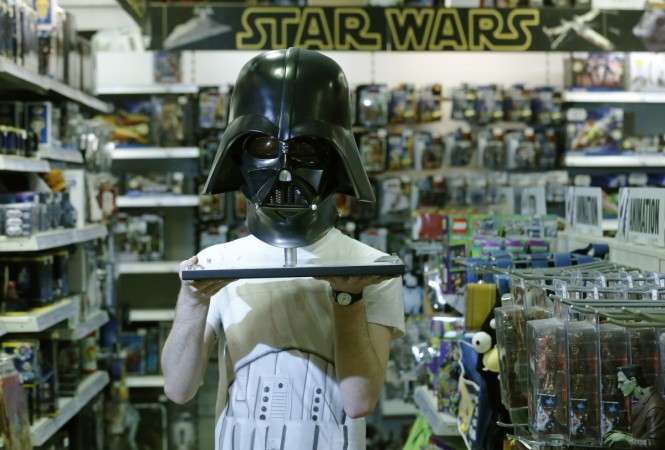 After months of leaked images, random speculation, fans finally got to see the "Star Wars: The Force Awakens" in its first official trailer. The teaser video has already been watched 3 million times on YouTube.
Disney and Lucasfilm released the 88-second teaser trailer on Friday, for Star Wars' seventh instalment, "The Force Awakens". The trailer is maddeningly short and leaves fans wanting for more.
This is the first project after Disney acquired complete autonomy over Lucasfilm in November 2012 for $4.05 billion.
The teaser of the J.J. Abrams-directed film begins with a voice in the background saying, "There has been an awakening, have you felt it?" and then we see newcomer British actor John Boyega, dressed in the very-amazing stormtrooper regalia (helmetless), running in the middle of a desert and looking panicked and sweaty. It is set in a galaxy far, far away and time long, long ago.
The teaser, however, doesn't show returning cast-members like Harrison Ford, Mark Hamill and Carrie Fisher. But fans are given a brief look at the younger generation of the cast members who will appear in this film, which is the first of three planned sequels.
The teaser was released in 30 North American theatres as well. The dark teaser provides the viewers with unrelated "Star Wars" images that are classic, but slightly altered.
According to Daily Mail, the trailer also shows that the over-indulgent use of CGI, that had blighted parts one, two and three of the saga was absent. It highlights the return of the iconic Millenium Falcon that is seen taking part in a brief battle sequence, trying to evade laser blasts.
We also get a glimpse of what appears to be the new Dark Lord, moving through a rural setting holding a striking, sword-shaped lightsaber. We see a cloaked figure walking stealthily through a dark, snow-layered forest setting, as if he is amidst a battle.
Director Abrams is also responsible for redefining the "Star Trek" franchise. "Star Trek" and "Star Wars" are two rival universes. He is the first director to work on the two. He told Entertainment Weekly: "As a kid I was always a fan of special effects. Watching movies I was constantly trying to figure out how they did it, whatever the effect was. Star Wars was the first movie that blew my mind in that way. It didn't matter how they did any of it because it was all so overwhelmingly and entirely great."
Hope fans will also like his effort. Celebrities took to twitter to share their opinion of the trailer. "That 'Star Wars' trailer gave me the tingles," director Edgar Wright posted on Twitter, UT Sandiego reports.
"Language and emojis fail to express what's in my heart at this moment," actress Anna Kendrick added.
The sensational trailer is below: