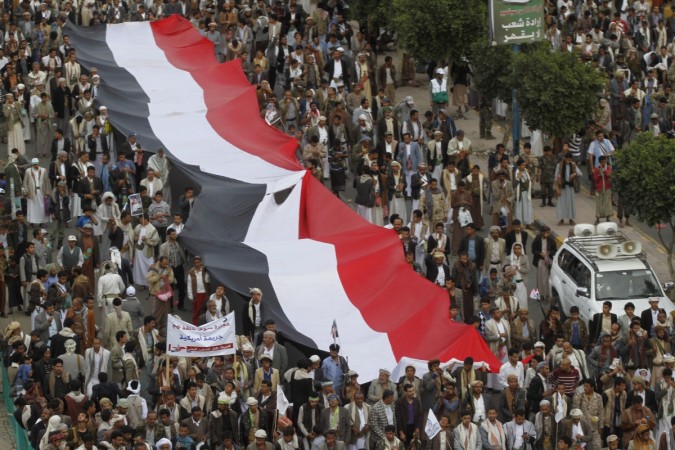 A little more than a year after the Shiite Houthi rebels took control of the presidential palace in Yemen and forced President Abd-Rabbu Mansour Hadi to flee the capital city of Sanaa, nearly 85 percent of the war-torn country has reportedly been taken back from the rebels.
The president told Saudi Arabia's Saudi Gazette that Yemen would have turned into "an Iranian state" if an Arab military coalition led by Riyadh had not started conducting airstrikes against the Houthis. He said that the Yemeni army and the Popular Resistance militia backing him have managed to throw out Houthis from large parts of the country.
The Houthis had captured a major part of northern Yemen in 2014, and in early 2015, the militants seized the presidential palace in Sanaa. The Saudi Arabia-led coalition began Operation Decisive Storm in March last year, hitting at rebel positions but also resulting in hundreds of civilian casualties. According to the Yemen Post newspaper, 14,550 children have been killed or injured in the past year in the country.
The Yemeni newspaper claims that 8,000 people have been killed in the conflict so far.
Hadi told the Saudi newspaper that he will call for general elections and put the Constitution for plebiscite once Sanaa is liberated. The newly-appointed deputy chief commander of Yemen also said earlier this week that Yemen's liberation was "imminent," according to a government-run site.
The Islamic State group and the al Qaeda have also carried out several deadly attacks in Yemen in the past two years, adding to the death toll.
The Yemeni president accused former president Ali Abdullah Saleh of helping Daesh, the Arabic acronym for ISIS, get a "foothold" in the country. Hadi, according to AFP, spends much of his time in Saudi Arabia due to the conflict in Yemen.
The Yemen conflict is largely seen as a power struggle between Shiite Iran and Sunni Saudi Arabia.