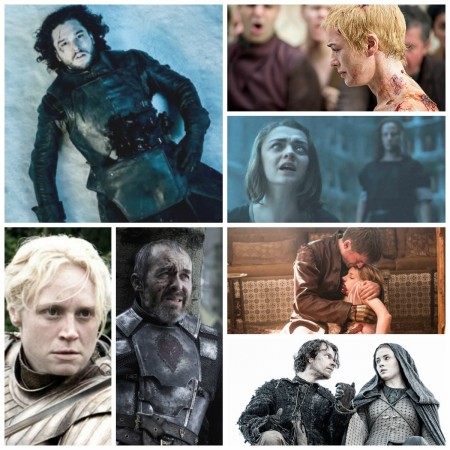 After the Season 5 finale of "Game of Thrones", the ardent fans of the popular fantasy drama series are left with several unanswered questions.
The final episode, "Mother's Mercy", had some shocking deaths of some of the most beloved characters. Let's see the questions that will haunt fans until the release of Season 6:
Did Brienne of Tarth kill Stannis Baratheon?
Brienne of Tarth had vowed to kill iron throne contender Stannis Baratheon. It has to be remembered that Brienne was a member of Renly Baratheon's kingsguard when he was killed by a shadow that had Stannis' face. However, fans are unsure whether Stannis was actually killed by Brienne, as she was only seen waving the sword towards Stannis. Meanwhile, the season also saw Stannis sacrificing his daughter Shireen to the Lord of Light and his wife Selyse committed suicide.
What happened to Arya's eyes?
While many fans appreciated Arya Stark for killing Meryn Trant, who had killed her sword teacher, fans were shocked after she lost her eyesight. Will she remain blind throughout? Or is it a part of her training with the Faceless Men?
Is Jon Snow really dead?
The death of Jon Snow, who is one of the most favourite characters of the show, was the most shocking moment of the season. The Lord Commander was stabbed by his comrades in the Night's Watch, calling him a traitor. Is he really dead or will he come back? Many fan theories predict that Red Priestess Melisandre will bring him back to life as she knows how to resurrect the dead.
Did Theon and Sansa Stark escape?
The final episode showed Theon Greyjoy and Sansa Stark's attempt to escape from the Boltons, by jumping from a good height. Will they survive the jump and escape from the Boltons is something fans have to wait and watch.
Will Myrcella be rescued?
On her return to King's landing with Jaime Lannister, Myrcella was poisoned by Ellaria Sand. During the journey, she even informed Jaime that she knew about her mother Cersei and his relationship, and even called him her father.
What will happen to Daenerys Targaryen?
Many fans had criticised Daenerys Targaryen for riding on Drogon, leaving her aides behind on the ninth episode of the fifth season. However, after Drogon refused to take her back to her people, she was surrounded by Dothraki horde and her nervousness is evident after she dropped one of her rings. She may escape from them, only if Drogon allows Khaleesi to ride on his back again.
Will Cersei Lannister take revenge?
Fans consider Cersei's 'Walk of Shame' was what she deserved for quite some time, but it is sure that she will take revenge against High Sparrow and entire Westeros. The Mountain will fight for Cersei during her trail.
Where is Rickon Stark?
The last time we saw Bran, Hodor and Meera Reed, they had made it to the three-eyed raven, but where is the other Stark kid, Rickon? Did Rickon and Osha make it to the Umbers? Hope they will be seen in the upcoming season of the popular series.