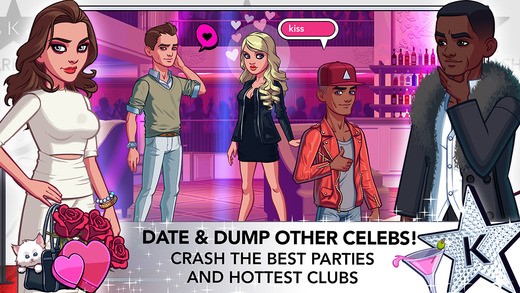 Smartphone game "Kim Kardashian: Hollywood," which was released on 25 June has become the talk of the town, after receiving a 5-star rating and amassing numerous fans.
The basic goal of the players is to move from the E-list all the way up to the A-list. Players have to gain fans and increase their fame by going to fabulous places and photo shoots.
While "Kim Kardashian: Hollywood" might have gotten players addicted to it, there are a few disturbing factors that have dogged the game:
1. There isn't single unattractive person in the game, which has garnered harsh criticism from many. This indicates that only good looking people exist in Kardashian's world, which displays a very shallow outlook.
"@KimGameProbz: When your date at Kim Kardashian Hollywood game says your look is ugly pic.twitter.com/z6xkBPXt2T" @tannertibbetts @nickfish33

— Jake Fish (@JacobAFish) July 26, 2014
2. Players have the freedom to travel to new cities, without any laws enforced. As they level up, new cities open to them where one cannot enter in reality. This aspect of the game gives people an impression laws are not mandatory to follow.
3. As players have fewer options, they have to compliment Kardashian and give her clothes with no charges.
4. If you want more fans, start dating. Flirting and dating will increase your fan list. Also just knowing Kardashian will add charm to your personality to attract any one in the game.
Yay I have 1.6M fans in Kim Kardashian : Hollywood game

— Farah (@_Farah23__) July 26, 2014
5. Money can buy happiness here, along with dates, success, clothes and accessories. This point again proves the shallowness of the game, which gives out a wrong message to the players. It shows that happiness is a thing to purchase and is compared to money and possessions.
6. As you go ahead in the game, you will come across bracelets priced $ 300, and you will also have that much money to purchase it.
7. The game will give you a tour between Miami and Los Angeles in just $15, cheaper than buying accessories.
8. And parties will be your first priority, not your career. It is very disturbing to know that the players, who are mostly young, are guided in a wrong way through this game. It gives more importance to high society parties than making carving a path for yourself.