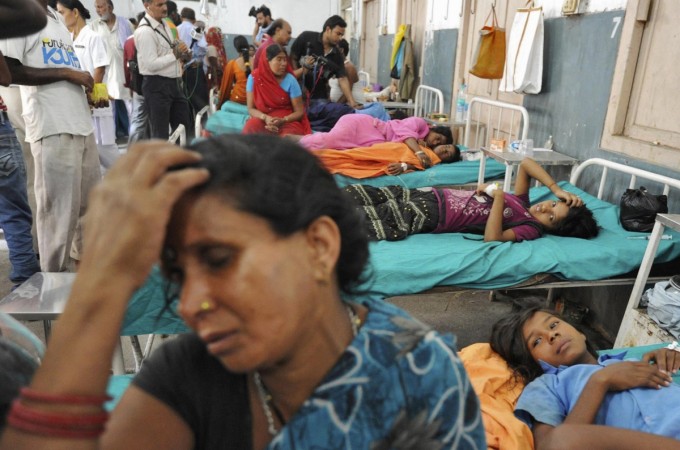 Four doctors have been suspended after 13 women reportedly lost their lives and over 50 others were hospitalised after the sterilisation surgery in a government camp organised as part of the annual "family planning day" in Chhattisgarh's Bilaspur district.
Chhattisgarh Chief Minister Raman Singh suspended four doctors who performed over 80 sterilisation surgery in the camp at organised by the state health department at the government-run Nemi Chand hospital in the Pendari area of Bilaspur, according to India Today report..
Within 24 hours of the surgery, most women complained of pain and fever, after which they were admitted to the district hospital where eight succumbed to death, while at least 64 more are undergoing treatment, of which 30 are critical.
"Reports of a drop in pulse, vomiting and other ailments started pouring in on Monday from the women who underwent surgery," district commissioner Sonmani Borah told AFP.
The first woman whose health deteriorated soon after surgery was Janaki Bai, who started vomiting, moments after the surgery and later complained of acute pain in her abdomen. She died in the district hospital on Monday.
Some families have reportedly claimed negligence in the surgery procedure and it was also being said that in order to meet the set target, more surgeries were performed in less than the required time, according to NDTV report.
The state health department has set up a three-member panel to investigate the incident and director of health services, Dr Kamalpreet Singh said strict action will be taken if the investigation report cites evidence of negligence. Also, the department is awaiting the post-mortem reports, which will certify the cause of death of eight women, The Times of India reports.
The government has already released a compensation amount of ₹ 50,000 for those who are undergoing treatment, while the families of eight dead victims will be given a compensation of ₹ 2 lakh each.
Following the incident, senior Congress leader Digvijay Singh demanded resignation of state health minister Amar Agarwal.
"Eight people die in a sterilisation camp in Chattisgarh. Govt must take a stern action against them. Can't imagine how this could happen. And that too in the health minister's constituency! He must resign," Singh tweeted.