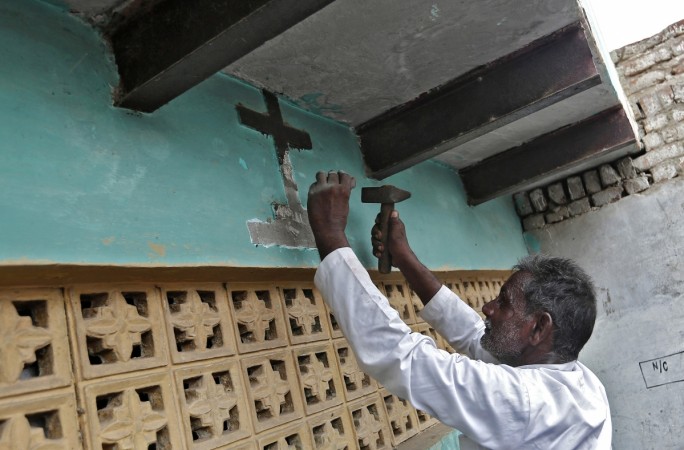 Amid the raging conversion row that stalled Parliament for the fifth consecutive day on Friday, reports have emerged that 75 people were allegedly converted to Christianity in Uttar Pradesh and Bihar.
While five of them hail from Bihar's Bhagalpur district, 70 belong to Bahraich in Uttar Pradesh.
However, the residents of Bhagalpur's Barohiya village told the police that they had not converted to Christianity, they have just expressed their "faith in Christ" as "they had been cured of illnesses," Hindustan Times quoted SSP Vivek Kumar as saying.
The police also found truth in locals' version as they did not find any evidence to support forced conversion.
The locals also alleged that Rashtriya Swayamsevak Sangh (RSS) activists and neighbours were trying to persuade them to return to Hinduism and one of them was forced to remove the Cross sign from his hut.
While the locals said that they have not converted to another faith, the RSS claimed that the residents were forced to embrace Christianity.
"Taking advantage of their poverty, some people motivated them to embrace another religion. Those who converted have returned to Hinduism. To create greater awareness among Hindus, we will soon visit other villages where conversion attempts have been made," said RSS block in-charge Susajjan Kumar.
In Bahraich, after a magisterial inquiry, the police detained members of an NGO, India Hope Centre, which allegedly forced the villagers to embrace Christianity.
Hindu Mahasabha member Mukesh Verma alleged that the NGO had "motivated poor villagers to adopt Christianity" in August. However, many of them have denied converting to Christianity.
The fresh conversion issue has surfaced at a time when the opposition has already created ruckus in the Rajya Sabha over the issue that originated from Agra; the opposition parties have demanded Prime Minister Narendra Modi to speak on the issue.
The controversy over religious conversion started after a mass conversion in Agra by offshoot Hindu group of the RSS and Bajrang Dal.