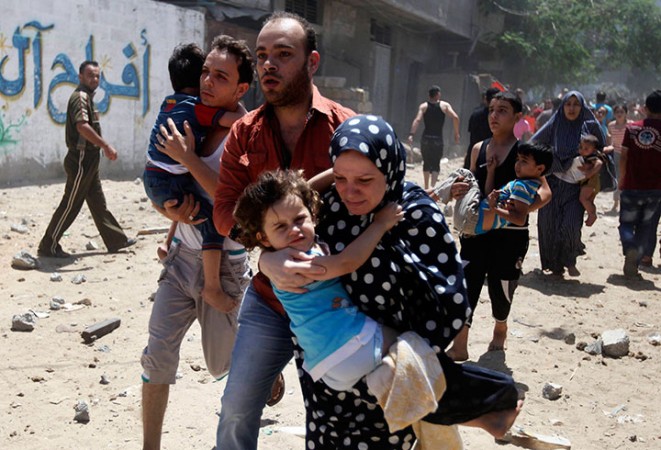 The 72-hour ceasefire, which began in Gaza on Friday morning, ended within minutes after Israel resumed shelling following a kidnapping of its soldier by the Hamas militants.
"The cease-fire is over," The New York Times quoted Lt. Col. Peter Lerner, a spokesman for the Israeli military.
The report stated that the brokered peace was broken after Palestinian militants, who emerged from a tunnel near Rafah in the southern Gaza Strip, abducted an Israeli soldier.
The Israeli army has reportedly resumed shelling, while ground forces are carrying out extensive seach for the missing soldier.
The peace deal, brokered by the United Nations and the United States, came into force at around 8 am but by 9.30 am - following the abduction of the soldier - the shelling resumed, the Israeli government claimed, according to reports.
Senior Hamas leader Moussa Abu Marzouk, however, told Turkish media that the Palestinian rebel group had indeed taken an Israeli soldier captive but the abduction had taken place prior to the 72-hour ceasefire, the NYT noted.
BBC noted that during the uneasy ceasefire, the Palestinians were inspecting their destroyed homes early in the morning, when the shelling started again.
Citing the Gaza health ministry, the report claimed that "at least 27 Palestinians were killed and 100 injured in an Israeli attack near the southern town of Rafah after the ceasefire".
Since the start of the conflict, there has been four humanitarian ceasefire announcements but they were all shortlived as peace was broken with renewed fighting each time, Al Jazeera reported.
#Gaza ceasefire crumbles only hours after it begins, 40 killed in shelling: http://t.co/7uY91eTw1G pic.twitter.com/HeB1FZwNXZ

— Reuters Top News (@Reuters) August 1, 2014
So the Israeli soldier was 'kidnapped' was he. Like he was innocently having a picnic somewhere in Gaza when Hamas pounced on him. — Karl Sharro (@KarlreMarks) August 1, 2014
IDF confirms Second Lieutenant Hadar Goldin, 23 years old from Kfar Saba as the soldier who was abducted http://t.co/9bGC0kbEjF

— Circa (@Circa) August 1, 2014
Palestinian health officials claim 40 dead, >150 injured in #Gaza after the "ceasefire" began. Say Rafah under heavy shelling. — Jon Williams (@WilliamsJon) August 1, 2014