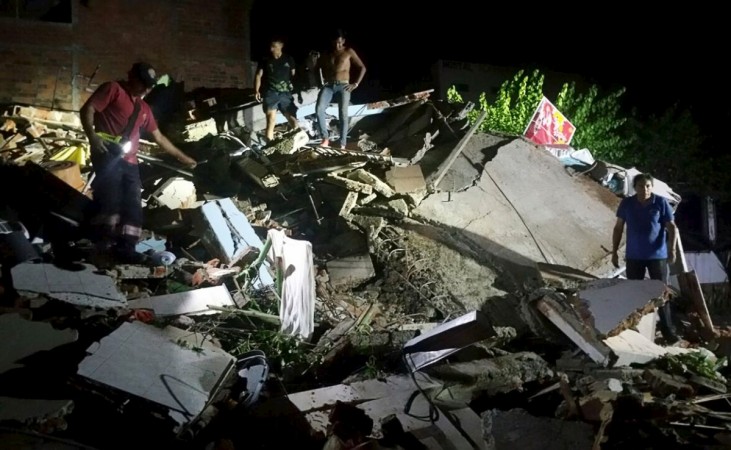 UPDATE: 11.12 p.m. IST — So far, atleast 235 people have been confirmed dead and 1,500 people were left injured in the devastating earthquake that shook Ecuador late on Saturday evening. The death toll is expected to rise further, CNN reports.
UPDATE: 2.56 p.m. IST — Ecuador's risk management agency said that 10,000 armed forces, hundreds of emergency workers and fire-fighters have been sent to the affected areas. Several major highways have been closed. The foreign ministry has opened a hotline for people living abroad, seeking information on their family members living in Ecuador, the Associated Press reported.
UPDATE: 12.26 p.m. IST — As many as 77 people have died and over 500 people were left injured in the earthquake that hit Ecuador late on Saturday, CNN reported.
Death toll soars in Ecuador after powerful earthquake. At least 77 dead, official says. https://t.co/DHO8frzIC7 pic.twitter.com/MG5TsBK3pt

— CNN Breaking News (@cnnbrk) April 17, 2016
UPDATE: 10:54 a.m. IST — The death toll from Ecuador earthquake has risen to 41, the Associated Press reported.
Original Story —
A powerful earthquake of 7.8 magnitude struck Ecuador's northwest Pacific coast late on Saturday evening (local GMT time), killing at least 28 people and damaging property. The epicenter of the quake was coastal town of Musine, BBC reports.
A state of emergency was declared in six provinces of the country.
The government recommended residents to evacuate the coastal areas over concerns of rising tides. An overpass in Ecuador's largest city of Guayaquil, located about 300 kms from the epicenter, was destroyed, Reuters cited local media reports as saying.
The tremors shook buildings in the capital city of Quito, forcing residents to flee homes.
"We have 16 people dead in the city of Portviejo, 10 in Manta and two in the province of Gyayas," Vice President Jorge Glas said in a press conference, BBC added.
Some parts of the capital city did not have electricity or telephone service for a while. In Manta, the airport was closed after the Air Traffic Control (ATC) suffered damages, the Associated Press reported.
The US Geological Survey said, the earthquake struck at a depth of 19.2 kms (11.9 miles).
"My building moved a lot of things fell on the floor. Lots of neighbours were screaming and kids crying," Zoila Villena, a Quito resident, was quoted as saying by AP.