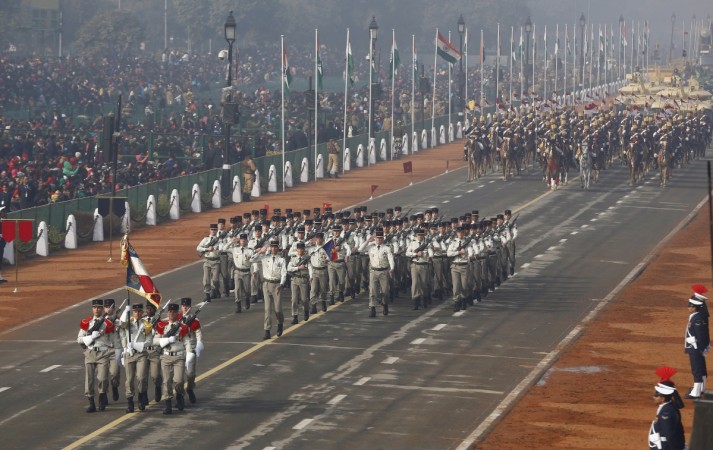 Happy Republic Day 2016!
India commemorates its 67th Republic Day – the historic moment when India's Constitution came into being on 26 January, 1950.
The event is celebrated with patriotism and much enthusiasm in the country and as part of Republic Day celebrations, parades by the Indian armed forces along with traditional dance troupes will take place at the Rajpath in New Delhi.
French President François Hollande is the chief guest for this year's Republic Day celebrations and French soldiers will march with Indian troops during the R-day parade on Tuesday. Hollande is the fifth French president to be the chief guest on an R-day parade in New Delhi. The parade will begin at 9:50 am till 12:30 pm on Tuesday.
Check out some quotes on Republic Day below:
Constitution is not a mere lawyers document, it is a vehicle of Life, and its spirit is always the spirit of Age. – BR Ambedkar
I feel that the constitution is workable, it is flexible and it is strong enough to hold the country together both in peacetime and in wartime. Indeed, if I may say so, if things go wrong under the new Constitution, the reason will not be that we had a bad Constitution. What we will have to say is that Man was vile. – BR Ambedkar
You must be the change you want to see in the World. – Mahatma Gandhi
Let new India arise out of peasants cottage, grasping the plough, out of huts, cobbler and sweeper. – Swami Vivekananda
Citizenship consists in the service of the country. – Jawaharlal Nehru
Let us together commence a journey of peace, harmony and progress in South Asia. – Atal Behari Vajpayee
Check out some messages, wishes and picture greetings to be shared on Republic Day here:
Republic Day is the time to recall the famous Vande Mataram, the chant that gave us freedom. May the Indian spirit prosper forever. Happy Republic Day!
Let every patriot be honoured,

Don't let politics get in the way.

Without them, freedom would have died,

What they did, we can't repay.

Happy Republic Day!
Freedom in the mind,

Faith in the words..

Pride in our souls..

Lets salute the nation on 67th Republic Day!
The difference between what we do and what we are capable of doing would suffice to solve most of the world's problems! Happy Republic Day!
Today, let us remember the golden heritage of our country and feel pound to be a part of India.
Saluting India! Where each bud blooms in its true colours, where each day is celebration of unity, harmony and synthesis. Happy Republic Day!
Let us remember the golden heritage of our country and feel proud to be a part of India. Happy 67th Republic Day!
Awake... the nation needs you. You are part of world's biggest democracy... Today is the day when we got our own constitution... Republic Day wishes!