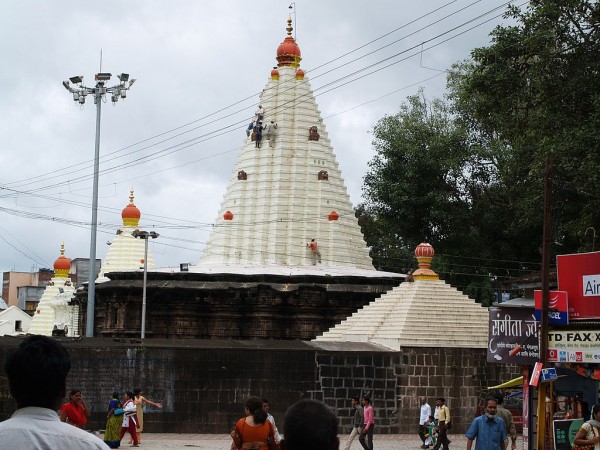 Five priests of Shri Mahalaxmi Temple were booked for attacking activist Trupti Desai at the temple complex on April 13. Two other people have also been named in the FIR.
Desai had attempted to enter the sanctum sanctorum of the temple after the Bombay High Court ruled in favour of allowing women's entry into temples. Women were permitted inside the sanctum sanctorum of the Shani Shingnapur temple after the ruling. Desai, who tried to enter the Shri Mahalaxmi Temple in salwar kameez despite being asked to wear a saree inside the inner sanctum, was attacked by local women and priests, according to India Today.
"The accused and their supporters wilfully and illegally attempted to stop them, pushed them around, sprayed turmeric, kumkum powder and ink on them, posing a physical threat to them," an official was quoted as saying by IANS.
Desai was hospitalised for two days after the assault.
"There were people who came to attack us, even the priest was abusing us. The attackers said don't let Trupti Desai get out alive. Doctor said I could've got paralysis attack," she told India Today.
Kedar Muneshwar, Shreesh Muneshwar, Mayur Muneshwar, Chaitanya Ashtekar and Nikhil Shanbag — all priests working at the Mahalaxmi temple — have been named in the FIR. The other two people charged are Nationalist Congress Party activists Kisan Kalyankar and Jaykumar Shinde.
The priests, who were also charged with preventing the police from performing their duty, had denied assaulting Desai and said they were only trying to inform Desai of the temple dress code.
The Bhumata Ranragini Brigade (BRB), of which Desai is the chief, had said the temple priests, in trying to stop Desai and other women from entering the temple, had violated the Bombay High Court order that allowed women into places of worship.
A similar case on women's entry into temples is being heard by the Supreme Court. The Sabarimala temple in Kerala prevents women aged between 10 and 55 from entering the temple citing the reason that menstruating women would make the celibate god impure. The apex court was quoted as saying by NDTV that "in the Hindu religion there is no denomination of a Hindu male or female. A Hindu is a Hindu."