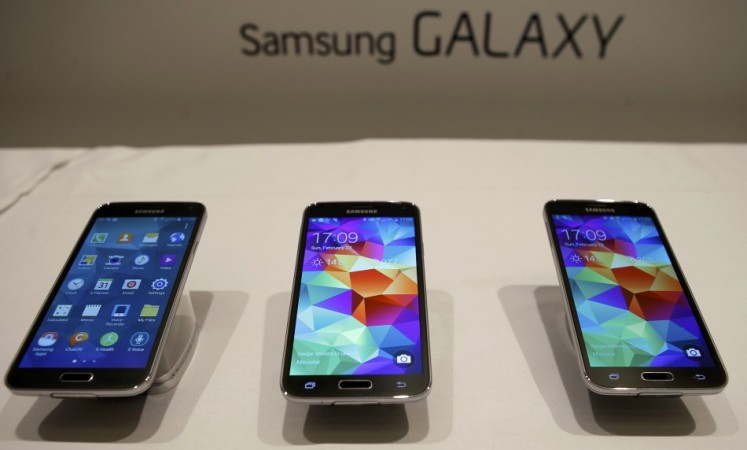 Samsung finally unveiled its much-hyped new flagship smartphone Galaxy S5 at its 'UNPACKED 5' event on Monday, ending months of speculations. A few special features stood out, despite most of the rumored specifications turning out to be real.
Here are five special features of Samsung Galaxy S5:
1. Wi-Fi 802.11ac and 2X2 MIMO: Samsung Galaxy S5 offers LTE experience and Wi-Fi performance, ensuring fast data speeds. It supports the fifth generation Wi-Fi 802.11ac and 2X2 MIMO, and features Download Booster, an innovative Wi-Fi technology for boosting data speed by bonding Wi-Fi and LTE simultaneously. According to the benchmark test ran by Android Community, Galaxy S5 is the fastest device around.
2. Fingerprint Sensor: As speculated earlier, Samsung Galaxy S5 features Fingerprint scanner like the one seen in iPhone 5S, providing a secure, biometric screen-locking feature and a seamless and safe mobile payment experience to consumers.
3. Dust and Water Resistant: The Galaxy S5 is dust and water resistant. This feature, which was used in Sony Xperia Z1 and Z2, has been used in a Samsuing Galaxy series phone for the first time.
4. S Health 3.0: The new flagship device features S Health 3.0, a fitness-oriented software that helps people stay fit by providing a comprehensive personal fitness tracker to help users monitor and manage their behavior, along with additional tools, including a pedometer, diet and exercise records and a new, built-in heart rate monitor.
5. Fast Autofocus Speed: The device has a 16 megapixel camera with an enhanced menu and user interface. "The Galaxy S5 offers the world's fastest autofocus speed up to 0.3 seconds and the advanced High Dynamic Range (HDR), reproduce natural light and color with striking intensity at any circumstances," according to Samsung. The camera has Selective Focus feature that allows users to focus on a specific area and blur out the rest or background.
Samsung Galaxy S5 has 5.1" FHD Super AMOLED (1920 x 1080) screen with 16MP (rear), 2.0MP (front) camera. It is powered by 2.5GHz quad core application processor and runs on Android 4.4.2 (Kitkat) OS. The device has 2GB RAM with internal memory of 16/32GB, which can be expanded upto 64GB through microSD card, and features a 2800mAh battery.