After Deepika Padukone, it is Sonakshi Sinha's turn to test her luck in Kollywood.
The Bollywood diva is making her Tamil debut opposite Rajinikanth in "Lingaa," which is releasing this Friday.
Deepika Padukone, who had worked with Rajinikanth earlier, could not leave an ever-lasting impact on the Tamil audience. But Sonakshi Sinha, in all probability, is set to impress.
Here, we are listing out five reasons why she would be better than Deepika in Kollywood: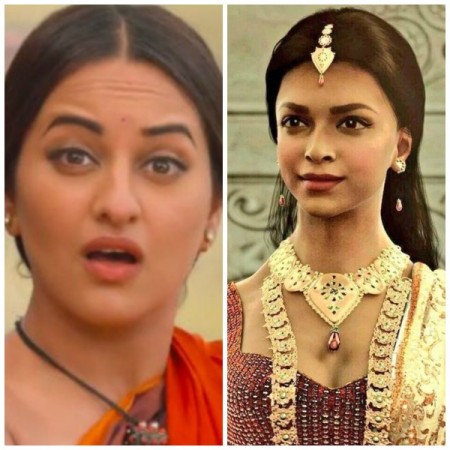 Good Character
The first and the foremost reason will be Sonakshi Sinha's character. While Deepika Padukone was seen in an animated role, Sonakshi Sinha, despite the usual running-around-the-trees kind of character in "Lingaa," will be doing the female lead role, which is loved by all movie buffs. Whenever an actress plays the leading lady of Rajinikanth, the attention from the audience is always high.
In case of Deepika, her animated character did not go well with the audience and became the butt of all jokes on social media due to poor presentation of her character in motion-capture technology movie "Kochadaiiyaan."
Wide Appeal
"Kochadaiiyaan" failed to get the audience's attention; traditional Rajinikanth fans never like to see their icon in experimental movies and prefer his commercial flicks, which they enjoy watching on-screen. As a result, "Kochadaiiyaan" bombed at the box office. But "Lingaa" is a regular movie that would appeal to everybody. So, the chances of getting noticed are very high for Sonakshi Sinha.
KS Ravikumar Factor
KS Ravikumar's female lead roles have often got good appreciation. Meena, Khushboo, Simran, Rambha, Ramya Krishnan, Jyothika, Asin and many others have tasted success in his films. Even if the roles are confined to just glamour, his heroines leave their impact on the audience. Sonakshi Sinha's role in "Lingaa" is no different, going by the trailer and poster of the film.
Good Promotions
Rajinikanth's films are never short of publicity. "Kochadaiiyaan" was an exception because the leading lady Deepika Padukone never took part in the promotions during or after the release of this film. However, "Lingaa" has been well-promoted and Sonakshi has also been contributing to it.
Familiar Face
Sonakshi Sinha has become a familiar face in Kollywood. Even though this is her first project here, she has acted in five popular remakes from the South and therefore is a familiar face for the audience. Also, one should not forget that she is a favourite actress of director AR Murugadoss; Sinha's next movie is a female-centric film directed by him.