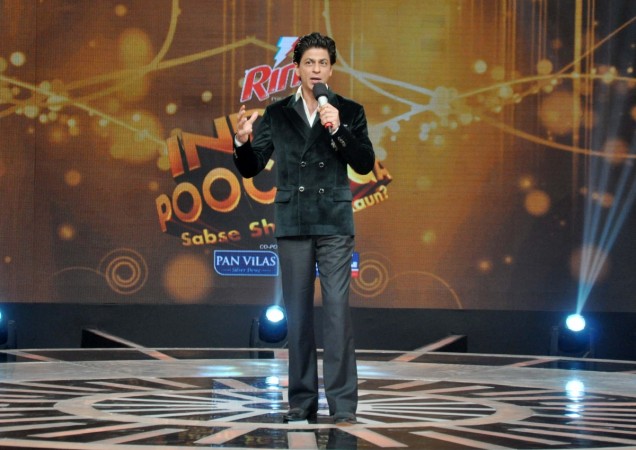 While the name, Shah Rukh Khan, is a good enough reason for the viewers to get hooked to "India Poochega – Sabse Shaana Kaun?", there are a couple of reasons more that makes the show a must-watch.
SRK back as Host
The 49-year-old actor wowed the audience with his wit and charm not once, but thrice before this. "Kaun Banega Crorepati 3", "Kya Aap Panchvi Pass se Tez Hain?" and "Zor ka Jhatka: Total Wipeout" weren't really TRP churners, but the host was loved and praised for bringing something fresh onto the plate. However, with "SSK" ("Sabse Shaana Kaun?"), Shah Rukh got an opportunity to redeem himself.
"I don't do any work for redemption. Having said that, if you keep doing something long enough and are good enough with the passion that you have and the hard work that you put in, it will work one day. It cannot go wrong," DNA quoted him as saying.
SRK returns to Small Screen
Like mentioned earlier, SRK's shows weren't up to the mark as far as TRP Ratings were concerned but it would be refreshing to watch him give back to the medium he kick-started his super successful career with.
Interestingly, the actor believes that he wasn't able to create magic with the TV shows he did a few years ago as much as he did with "Fauji", "Dil Dariya", "Ummeed", "Wagle ki Duniya" or "Circus".
"If that's the case, I'm also the only guy who came from films to television and hasn't succeeded again. So I need to succeed at TV because that's where it all started. With all due respect to KBC and Paanchvi Paas and Wipeout, I don't think I have been able to recreate the magic of Fauji or Dil Dariya or Ummeed or Wagle Ki Duniya or Circus again," he told DNA
'SSK' based on Unique Concept
Adapted from the Israeli TV show "Who's Asking?", the show has an interesting Q&A format and will feature the 'Commoner' as a contestant, viewer and also as someone who would shoot the questions. With two pairs pitted against one another, the show gives the contestants an opportunity to win ₹1 crore. Also, the quick-witted players will reportedly earn themselves a badge, which is essentially a symbol of 'shaanpatti'.
A-List Celebs to show some 'Shaanpatti'
Karan Johar attending SRK's show, whose equation with him is reported to have gone sour, has already made headlines. To add to that, cricketers Yuvraj Singh, Harbajhan Singh, Robin Uthappa and Manish Pandey also played the game with the superstar.
Possibly on-air for short span
There are no official announcements as to when the show concludes. But, considering how quickly SRK wrapped up shoot and the fact that it will be aired five days a week (Monday – Friday, 9pm onwards on &TV, starting Monday), it can be speculated that "SSK" will be around for a short span of time.