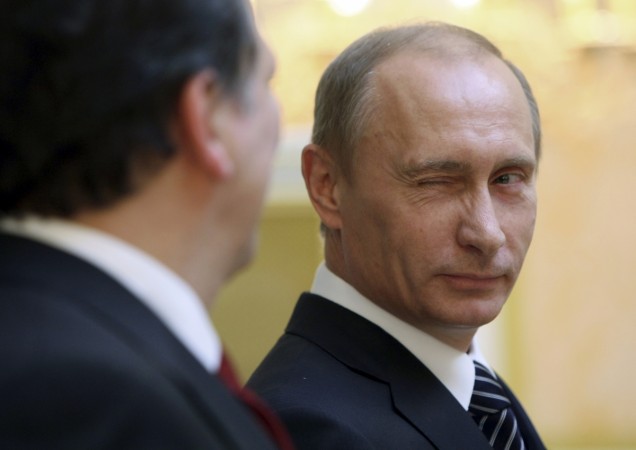 With rumours around the mysterious 'disappearance' of Russian President Vladimir Putin reaching a fever pitch, conspiracy theories ranging from his sudden death to being toppled in a coup are being debated across the globe.
But sometimes, reality can be quite simple. Here are five reasons why President Vladimir Putin is neither dead nor overthrown in a coup:
1. Because CIA says so: It has been some ten days since the Russian president made his last public appearance. On 5 March, Putin held a meeting with Italian Prime Minister Matteo Renzi and since then he has skipped a number of events—including one with top FSB officials and the Kazakhistan visit. While the Russian blogosphere was quick to spread the rumour that he may have died, the CIA sources have claimed otherwise. A CIA source told Gawker that Putin is in fact down with flu.
2. Putin is not keeping well: According to Kurier, an unnamed orthopedic doctor who travelled to Moscow told the Austrian newspaper that Putin is being treated for a back problem. The explanation could very well be true as previously too Putin had retreated from public life to recuperate from a long-standing judo injury to his spinal disc.
3. Putin is with girlfriend in Switzerland: The Russian government was quick to rubbish the claims by Swiss newspaper Blick that Putin was in Switzerland with his girlfriend, former Olympic gymnast Alina Kabayeva, who gave birth to his daughter. This very well could be the reality especially considering how secretive Putin is about his personal life. Take for example, until today most of the Russian public is still in the dark about the daughters that he had with his ex-wife Lyudmila Putina.
4. A military coup in Russia is impossible: According to International Policy Digest, the Russian military has never in its history been involved politically. Even during the 1991 August coup and Yeltsin's 1993 coup against the Supreme Soviet, the military never fully provided an active support. Besides, there is a powerful control network in Russia. While FSB and FSO (Federal Guard Service) both monitor the loyalties of the military, there is a perfect balance of checks on power that ensures no one agency can mount a quick power succession.
5. Putin is playing with populist sentiments: Since his disappearance, the Western media has been the most worried about him. According to FrontPage Mag, Putin staged the entire disappearance act to warn the West that the alternatives to him are even more dangerous.
The report notes that since Nemtsov's murder, Putin has gained a certain unpopularity. But with this move, he not only gains the attention of his people, but also has the Western powers worried that a Russia without Putin could be a worse choice.