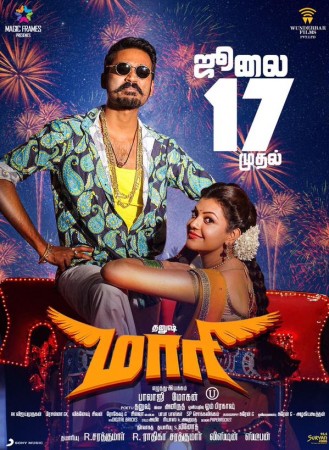 "Maari", one of the most anticipated films of the year, is set to hit screens on 17 July as Ramzan. The film has been noted for several reasons from the star cast to making and the now the film is expected to take over the box office like a storm.
"Maari", directed by Balaji Mohan and starring Dhanush and Kajal Aggarwal in the lead, is assured with a solo release in around 325 screens.
Here we are listing five major reasons why "Maari" has the potential to be a blockbuster hit:
Dhanush
The ultimate reason why audience are looking forward to the film might be because of Dhanush. The actor has his way of charming his fans and audience with his unique style and antics. His looks in the film have managed to create a lot of buzz and has become a trend-setter.
With his twisted moustache, gold rimmed dark glasses, multi-coloured shirt and gold chains, Dhanush tend to have taken entertainment quotient of "Maari" to a new level.
Mass Appeal
Another aspect of the film that was evident in the trailer and the teaser is the mass appeal. From fast numbers, action sequences, romance, earthy dialogues and quirky comedy, the movie has everything that is expected from a mass entertainer.
Music by Anirudh Ravichander
Music by Anirudh Ravichander has now become an integral part of successful Tamil films. Like his previous attempts in Dhanush movies, songs of "Maari" have already become popular numbers. Another assurance that Anirudh's music gives to a film is its elevating energy and nature which gives genuine texture to the film's script.
Expectations are that Anirudh has added a new flavour to "Maari", which makes it worth catching up in theatres.
Star Cast
Besides Dhanush, "Maari" makers have assured a good star cast and at the same time have turned experimental. The film's leading lady Kajal Aggarwal's performance is said to be another charming aspect and the film is also noted for the debut of singer Vijay Yesudas as an actor.
"Maari" also has a star cast of Robo Shankar, Kaali Venkat, Kalloori Vinoth, Mime Gopi, Sriranjini and the music composer for the film Anirudh Ravichander will also make a guest appearance.
'Maari' Crew
What makes "Maari" more special is its crew ranging from the director to the whole technical team. The movie is directed by Balaji Mohan, one of the youngest filmmakers in Tamil industry who has also established himself with his films like "Kadhalil Sodhappuvadhu Yeppadi" and "Vaayai Moodi Pesavum".
Cinematography is handled by Om Prakash who has been part of some well-known movies such as "Anegan", "Arrambam" and "Neethane En Ponvasantham".
Moreover, the production value of the film stands out with Magic Frames run by Listin Stephen, R Sarath Kumar and Raadhika Sarath Kumar.